Shrdlu the Office Cat Still here, too!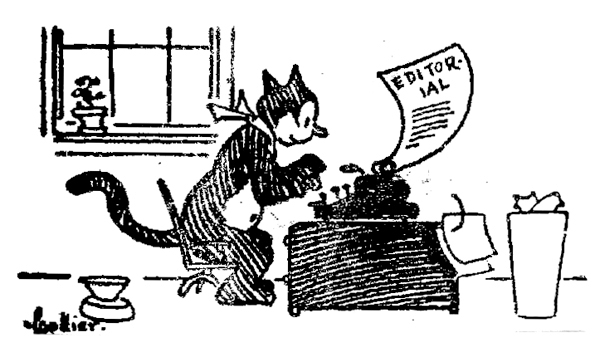 The keeping of Shrdlu, of course, is another story. If there's anything we don't like, it's a Smart Alec cat. But we learned different.
That dog-gone cat is downright smart.
The other day, for example, a big, black, fuzzy tarantula stalked out from behind one of the presses and chased everyone out the front door. Everyone, that is, except Shrdlu.
The Office Cat just sat on our desk (also on his haunches) and primped. After smoothing a rumpled piece of fur, he nonchalantly shoved a paper weight off the desk and squashed the ominous visiting tarantula.
As we were discussing how poisonous a tarantula is, and about the time we decided a tarantula was as deadly as a rattlesnake, Shrdlu turned a page of an encyclopediaand pointed to a paragraph.
The words stood out black enough: The bite of a tarantula is not poisonous. But when the big spider crawls over the place it bites, its hairy legs leave germs that infect the wound. Painful but not fatal.
That's what the book said.
---
This installment of Shrdlu our Office Cat ran in the May 6, 1948 issue of La Feria News.
---
EDITOR'S NOTE: Shrdlu our Office Cat is a feature that ran weekly in the 1948-49 editions of La Feria News.
We've been trying to discern the identity of the cartoonist that produced the Shrdlu feature, but haven't been able to find any information online. Our best guess is that Shrdlu was a syndicated filler feature by cartoonist Nathan Collier, a journeyman cartoonist, active mainly in the 1920s.
Collier was born in Orangeville, Illinois. He studied at the Acme School of Drawing and at the Lockwood Art School. He did cartoons for the Chicago Journal, Judge, Life, as well as the feature 'Our Own Movies' (1920). His panel 'Little Journeys to Yesterday' alternated with 'Wouldn't It Make You Mad'. He did the comic strip 'Kelly Kids' around 1923 and cartoons for Life and Judge. In the 1930s, he made the panel 'Can It Be Done?' and the comic strip 'The Professor'