Charlene Eaker Binet Albrecht
Updated: September 26, 2014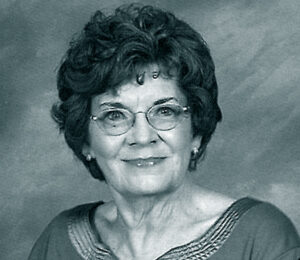 Charlene was born and raised on a farm with a citrus grove and cotton fields in La Feria, located in the lower Rio Grande Valley of Texas. She was an outstanding student and graduated from La Feria High as valedictorian, Homecoming Queen, Best All Around student, and of course, President of the Library Club. She attended University of New Mexico and Gunnison College in Colorado and graduated from Pan American University.
She married Ron Binet and they had one son in 1956, Michael. After Ron's death, she married Melvin Albrecht and had two daughters. The family moved from Texas to Lafayette in 1966. While raising her family, she worked as a school teacher, teaching middle school students for nearly 40 years, most of those years at Lafayette Middle School. Charlene loved being a teacher and was genuinely fond of each and every student. Students would often quote some of her pet phrases, especially "Don't click your pen!" She created innovative and engaging lesson plans and was always thinking up new games, ideas and approaches. She greatly enjoyed sharing her enthusiasm for the beauty of language and literature with her students and was recognized for her excellence with a Louisiana Educator of the Year Award before her retirement in 1992.
Outside the classroom, Charlene treasured the camaraderie of her fellow teachers and loved keeping up with her cousins and extended family. She was a voracious reader and would often quote from memory her favorite passages from Shakespeare and other classic literature. She also had a green thumb and enjoyed tending to the many beautiful plants she kept in the home. What Charlene will be remembered most for, however, is the joy and love she brought to her relationships with everyone around her. She created a space in her heart for everyone she met and had a special and unique relationship with each person
She is survived by her three children, Michael G. Binet of Lafayette, Stephanie Lynne Albrecht of Baton Rouge and The Hon. Cheryl Anne Albrecht of Portland, OR; two grandchildren, Matthew "Max" James Binet of New Orleans and Ryan Kelly Aymond of Carencro; and two siblings, Norman Michael Eaker, Jr. of Houston, TX and Irish Anne Bahan Park of Nashville, TN.
She was preceded in death by her husband, Melvin Paul Albrecht; and her parents, Norman Michael Eaker, Sr. and Josephine Swanzey Eaker.