RE-CERTIFIED KNEE AND HIP SURGERY CENTER HELPS MANY VALLEY PATIENTS TO WALK AGAIN WITHOUT PAIN
Updated: September 12, 2014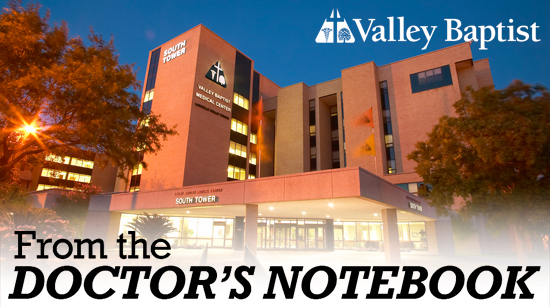 HARLINGEN, Texas – Knee and hip replacement surgery is performed at Valley Baptist Medical Center in Harlingen for patients who have pain, discomfort, or loss of function because of arthritis, accidents, or other causes.
Arthritis can eventually cause a joint to deteriorate or wear out to the point that partial or total replacement is necessary. The replacement surgery is designed to help restore the patient's ability to walk and relieve pain.
Recently, Valley Baptist was re-certified with a "Gold Seal of Approval™" specifically for knee and hip replacement surgeries by a national accrediting organization for healthcare organizations, the Joint Commission. In 2011, the accrediting organization, which is based in Illinois. granted Valley Baptist the first-ever specialty certification in the Valley for knee and hip replacement.
Valley Baptist is one of the most experienced hospitals in Texas in performing joint replacement surgeries. In fact, Dr. Rick Bassett, Orthopedic Surgeon and Medical Director of Valley Baptist-Harlingen's Orthopedics / Joint Replacement Program, has performed more than 12,000 knee replacement and 3,000 hip replacement surgeries at Valley Baptist. Last year, 1,061 joint replacement surgeries were performed at Valley Baptist.
Valley Baptist's orthopedics department follows national standards to reduce the length of stay and risk of infections for patients hospitalized after orthopedic surgery. For example, patients are given antibiotics at optimum times to reduce the chance of infection. In addition, Valley Baptist's orthopedic surgery rooms are equipped with a sterile air flow system which reduces infections.
Following joint replacement surgery, patients recover on a specially-equipped orthopedics floor, with 39 large, private rooms, staffed by nurses experienced at caring for joint replacement patients.
Maureen Rattray, RN, Nurse Director for the Valley Baptist's orthopedics floor, said the Joint Commission's "Gold Seal of Approval" program shows that Valley Baptist is using the most up-to-date care, by following scientifically-proven "evidence-based" guidelines to care for hip and knee patients.
For more information on knee, hip and other joint replacement procedures, please consult your physician and visit www.ValleyBaptist.net.