School Bond Issue
Updated: February 29, 2016
Editor's Note: This letter to the editor originally ran in February 2016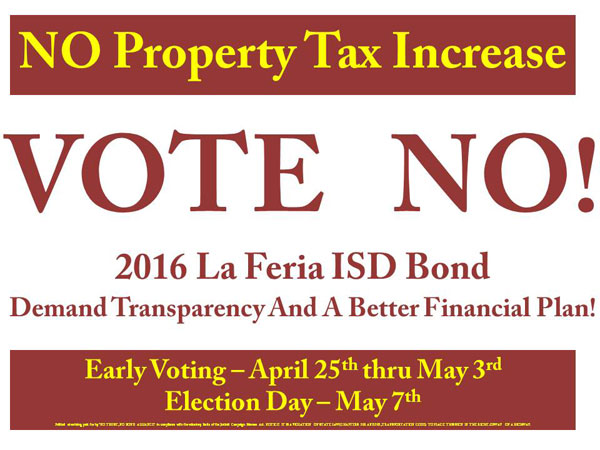 Dear School Board Members:
I finally figured out the sneaky math manipulation done by the leadership to give the impression of a lower tax increase, if the bond passes on May 7, 2016.
The leadership stated publicly, on the district's website and in the local newspapers, that if a home is valued at $65,000, the future tax increase would be $2.38 per month or $28.56 per month. Surprisingly, they didn't mention anything about the fact that these figures were based on the $40,000 value (they automatically deducted $25,000 homestead exemption without revealing this important fact) of the house, instead of the true value of $65,000.
Although some taxpayers MIGHT qualify for the $15,000 existing homestead exemption, the administration made the foolish assumption that everyone in the district is receiving the newly $25,000 homestead exemption, recently passed in the State of Texas. This is completely inaccurate and deceptive, to say the least. You can't simply assume that everyone in the district would qualify for the $25,000 homestead exemption.
We are expecting the leadership to acknowledge publicly making these types of intentional manipulation. You just can't use these deceptive strategies as you are desperately trying to promote the $14 million dollar bond. We expect you to publicly change the tax increase from $28.26 to $46.41 per year (based on a $65,000 home). Using the monthly tax increase is misleading and disingenuous. Our humble community deserves to be treated with respect and dignity. Please let me know if you disagree with my observation.
Respectfully,
Yosef Mughrabi
Community Advocate