Brady's Grill Now Open
Updated: January 15, 2022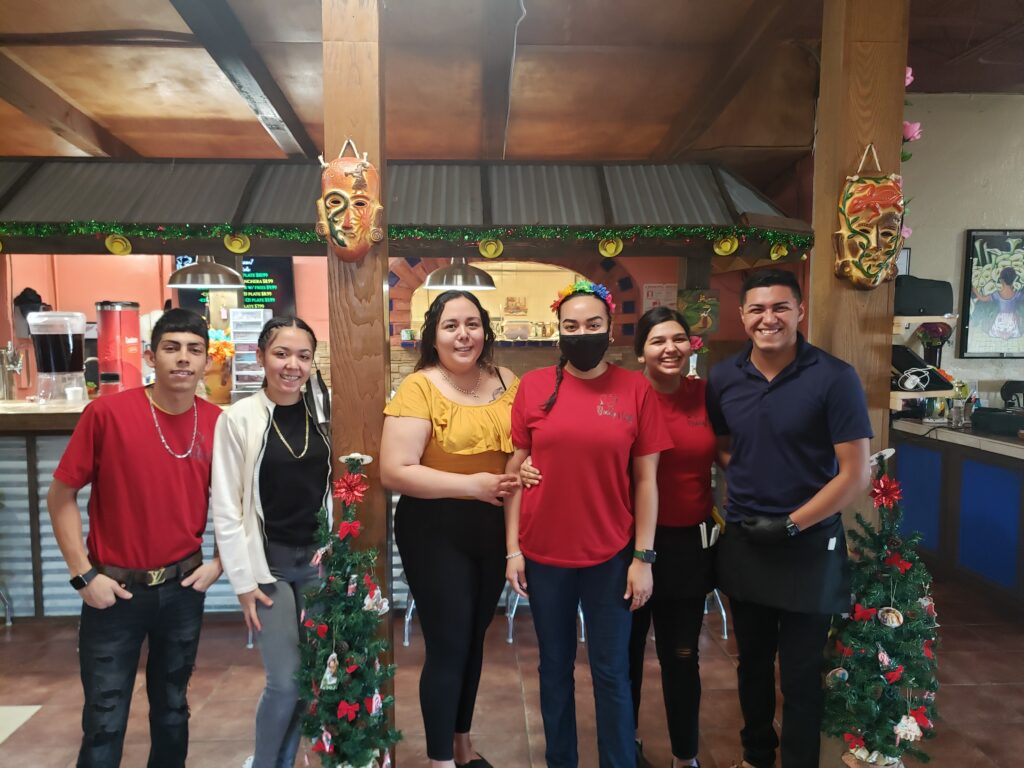 Emilio Flores
La Feria News
Brady's Grill, being opened for close to a month now, has gotten some good traction. So La Feria News decided to revisit the Tex-Mex Restaurant with some follow-up questions but also to see for ourselves how the business has been going.

And one of the things that Ms. Leal emphasized was feedback. That's the key for Ms. Leal, from customers to employees, she says, speaking of the employees, "They have to feel acknowledged… and I feel like by bringing that, everyone's just happy. If you come in with that daily, and you just reinforce them with positive comments" she says that, by showing them everything she appreciates about them it makes them enjoy their job and the environment and in turn makes them better servers to guests. She also thinks it's good because she says she gets their feedback, "They'll give me their ideas as well, as employees." Leal says that she enjoys hearing new ideas and what guests might like to see at Brady's Grill, from both the employees and the guests.

In our first story, which you can find on our website, Ruby Leal expressed her love for working in the restaurant from serving guests, to now serving her employees. Well, it seems to really speak volumes through the workers and servers. A lot of positive feedback has been given towards the friendliness and great service that these quality waiters and waitresses have been able to provide. Leal says that one of the big things is that she notices how the workers really enjoy working with each other and everyone seems to have that team spirit in mind.

Here is some of the reviews that we found…
Jen Mtz
"This is definitely the new breakfast spot great prices and great selection with daily specials. Waiting staff is great! Carlos is a great waiter pays attention to detail and thrives and getting everything right with a welcoming smile. Good job Carlos see you next time!"
Mike Rios
"Super deliciosa la comida el asado de puerco. muy sabroso y te atiende con mucho respeto."
Angel Olguin also noted about Brady's grill:
Friendly environment
They were able to accommodate to our food requirements.
Fast service
Staff makes us feel welcome.
The place is clean.
Ms. Leal thanks her family for all the encouragement and support through it, she says that her parents instilled a drive within her. Having grown up with 6 siblings she says, "Seeing what they did and what they accomplished and hearing their stories of how they came from not having very much and still being able to provide for us." That's where she got that determination she says, "It was just something that they've instilled in me."

Ms. Leal expresses that she's making sure all the ducks are in a row and she tries finding the littlest details important to her. "From picking the coffees, and types of teas, picking the ingredients, and not just settling for anything"
She also expresses once again how blessed she feels to hear all the positive feedback and how much it means. "And for not being from this city and having that support from people that I don't know, it's very humbling." And says that she hopes to continue to provide the food and service that people love.

She really wants the customers to love the food and says they are working every day to make the little adjustments to make the most homely, and positive environment for everyone.
Ruby hopes to have the grand opening by the end of January or early February.