UTRGV Athletics and City Of Pharr Set to Co-Host 2023 Wac Swimming & Diving Championships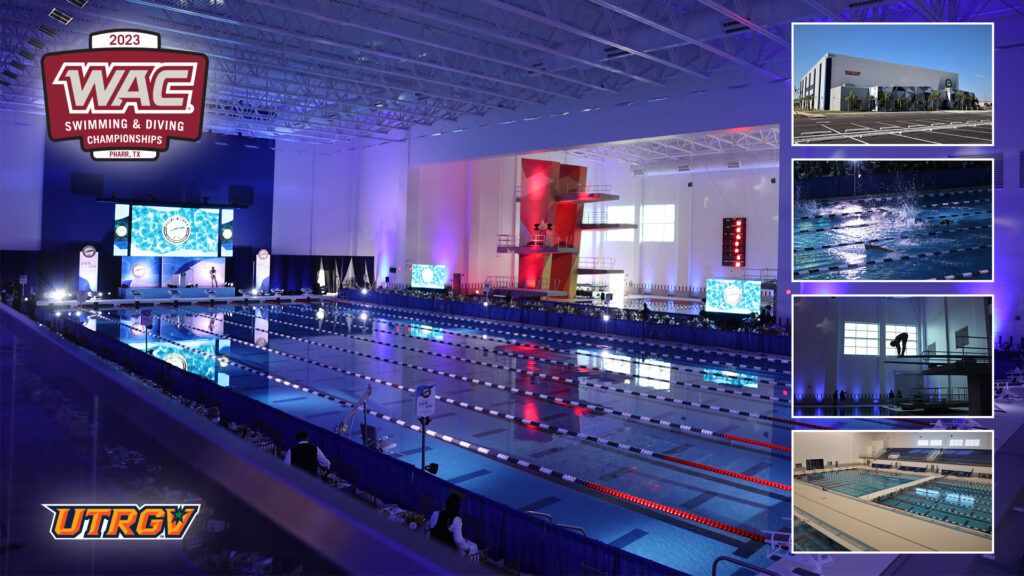 RIO GRANDE VALLEY – The University of Texas Rio Grande Valley (UTRGV) Department of Intercollegiate Athletics and City of Pharr announced in a joint press conference on Monday that they will be co-hosting the 2023 Western Athletic Conference (WAC) Swimming & Diving Championships Feb. 22-25 at the City of Pharr Natatorium.

"We're excited to be able to give our community an immediate opportunity to experience high caliber Division I swimming & diving as we build toward the launch of our own program in 2024," UTRGV Vice President and Director of Athletics Chasse Conque said. "The City of Pharr is a great partner for hosting this event and I want to thank Mayor Hernandez for his visionary leadership that led to the construction of this aquatic center. The City of Pharr Natatorium is one of the top swimming & diving facilities, not just in Texas, but in the country, which will allow us to both grow the sport in the Valley and continue to attract top competitions such as the WAC Championships."

This will be the eighth time that UTRGV has been part of hosting a WAC Championship-level event, along with the 2017 and 2022 WAC Volleyball Tournaments at the UTRGV Fieldhouse, the 2017 and 2021 WAC Outdoor Track & Field Championships at the UTRGV Soccer and Track & Field Complex, the 2016 and 2019 WAC Tennis Tournaments at the Brownsville Tennis Center, and the 2014 WAC Cross Country Championships at Champion Lakes Golf Course.

The institutions competing in the 2023 WAC Swimming & Diving Championships include Air Force, California Baptist, Grand Canyon, Idaho, Incarnate Word, New Mexico State, Northern Arizona, Northern Colorado, Seattle U, UNLV, Utah Tech, and Wyoming.

"What hosting the WAC Championships does is shine the national spotlight on UTRGV, the City of Pharr, and the entire Rio Grande Valley," UTRGV President Guy Bailey said. "More importantly, it helps us to show our young people where swimming & diving can take them. If they work hard both in the classroom and the competition pool, they too can earn scholarships and compete in events like this in beautiful facilities such as the one here in Pharr."

The WAC Swimming & Diving Championships have a long tradition of taking place in Texas. The event was held in San Antonio from 1996-98 and again from 2000-15, as well as Houston from 2016-20 and again in 2022.

Additionally, legacy institution Pan American University hosted the Texas Association of Intercollegiate Athletics for Women (TAIAW) Swimming & Diving Championships in 1974 and 1975. On those teams was diver Mary Jean (Jeanny) Neilson, who earned the first women's athletic scholarship in department history in 1975.

"This is an exciting and historic moment for the City of Pharr, UTRGV Athletics and the Rio Grande Valley as we proudly announce that we have secured being hosts for the WAC Swimming & Diving Championships," Pharr Mayor Ambrosio Hernandez, M.D. said. "Our state-of-the-art facility was specifically designed to be able to host such a prestigious competition, and we are thrilled to become the first city to host this caliber of an event in the Rio Grande Valley. Hosting this championship will not only bring national attention to South Texas in the exciting world of college sports, but will also have a positive economic impact benefiting the entire region with attendees eating, sleeping, and shopping here. We look forward to welcoming the WAC to our community."

Located at 3001 N Cage Blvd., The City of Pharr Natatorium, which opened in January, is the perfect location to host a world-class swimming & diving championship event. With an Olympic-size, eight-lane, 50-meter swimming pool that can also feature 22 25-yard lanes, and a separate diving pool that includes five platforms and four springboards, the City of Pharr Natatorium is the premiere location to host the WAC Championships.

The facility can seat 1,200 fans and has 444 parking spaces, allowing family and friends to cheer on the student-athletes. There are also two scoreboard and video boards, a visible running clock, and built-in areas to sell both concessions and merchandise.