STC is a leading Hispanic-Serving Institute in the nation
Amanda Sotelo
As part of Hispanic Heritage Month, South Texas College with 95% of its student population identifying as Hispanic is celebrating its designation as a Hispanic-Serving Institution (HSI) in the Rio Grande Valley and its place as a national role model for colleges across the nation.

STC, according to a study published in 2020 by Excelencia in Education, a non-profit organization that seeks to improve education outcomes for Latino students, is ranked No. 3 nationwide and No. 1 in Texas for enrolling and graduating Latinos.

"Being an HSI is more than just a designation for STC, it's our identity; it's who we are," said Vice President of Academic Affairs and Enrollment Management Matthew Hebbard.

A Hispanic-Serving Institution is defined as an institution of higher education that has an enrollment of undergraduate full-time students that is at least 25% Hispanic and is certified by the Department of Education.

This designation is celebrated annually by the Hispanic Association of Colleges and Universities (HACU), and this year is observed September 12-18, during Hispanic Heritage Month.

"As STC celebrates HSI week, we reflect on who we are, what we have accomplished and where we are going," said Hebbard. "This week helps us raise awareness nationwide about the great things our institution is doing. We are in the forefront as an HSI located along the U.S./Mexico border."

Being a designated HSI gives Hispanic students access to higher education that leads to certificate or degree completion. It also fosters a strong sense of belonging and implements robust academic programs, promotes retention and the necessary support needed to obtain student success.

"The goal is to give our students the ability to gain a credential that can lead to social economic mobility for them, their families and future generations," said Hebbard. "As an HSI we get to enhance our programs, expand our offerings and recruit quality faculty and allows us to put STC on the map."

Behind the success of STC's HSI initiative is funding that comes from grants such as the Developing Hispanic-Serving Institutions (DHSI) Grant Program, which has awarded STC a five-year grant in the amount of $2.5 million.

STC Interim Executive Director of Resource Development, Management and Compliance Carla Rodriguez said the DHSI grant is all about improving and enhancing student support services.

"Student support services is the heart of the college," she said. "It creates pathways toward student success and education. This grant, overall, is designed to enable institutions, like STC, to create student success pathways, sustain operational assets and have a positive impact on student persistence, academic achievement and personal and professional growth areas."

Hebbard added that college students in the Rio Grande Valley were some of the hardest hit by the COVID-19 pandemic and a lot of the funding STC receives gives a fundamental boost to support student needs.

"A lot of our key funding goes toward staff and strategic institution initiatives, so our students don't foot that bill," he said. "That allows us to keep education affordable, offer scholarship and grant opportunities to our students and keep them out of debt."

STC also recently welcomed its first Hispanic president, Ricardo J. Solis, Ph.D., who Hebbard said models the success the college want students to aspire to.

One of Solis' objectives is expanding STC's education and training across the border, which has already established various partnerships with high schools, universities and factories in Reynosa.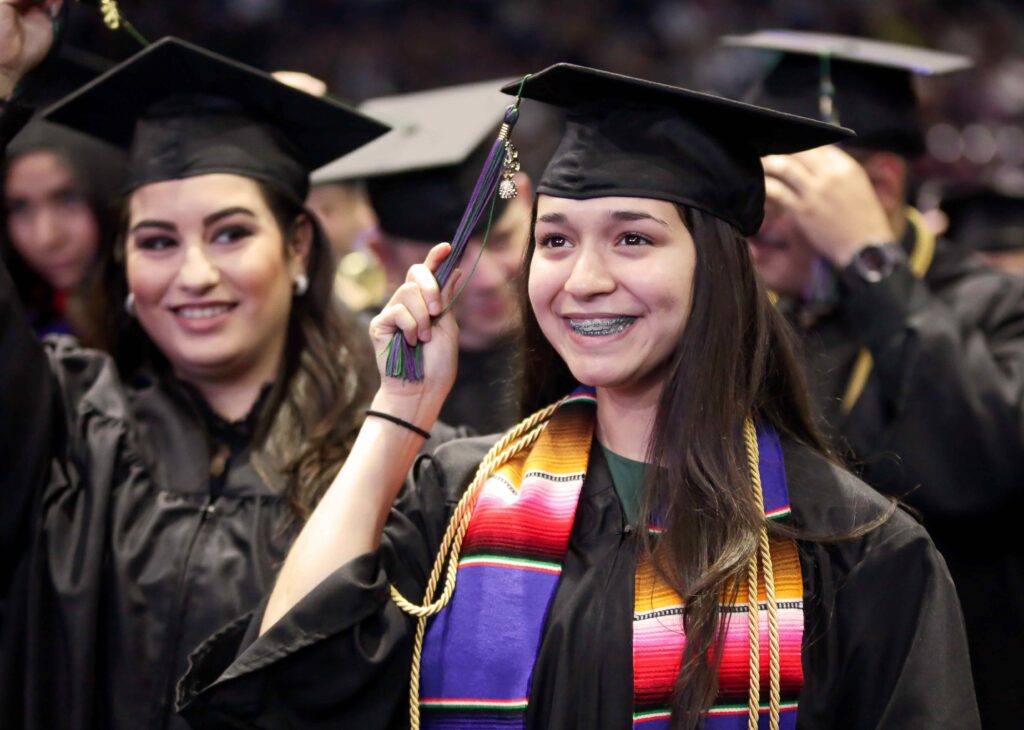 "We have leadership who understands the culture, the struggle and the barriers that have to be overcome," he said. "At STC we are 'familia,' or family, and we are in this together."

Together, STC also services other colleges and universities across the nation who are aiming for HSI designation.

"What works for our college and for our students is applicable for others anywhere," said Hebbard. "Because STC is so successful, many want to adopt our processes and procedures, so we get numerous calls from other institutions throughout the year requesting our help. We're leaders, and we will continue to serve as mentors and guides for the HSI process."

For more information on the programs and services offered by STC, visit southtexascollege.edu.