La Feria LIONS Boys Varsity Track Team 2013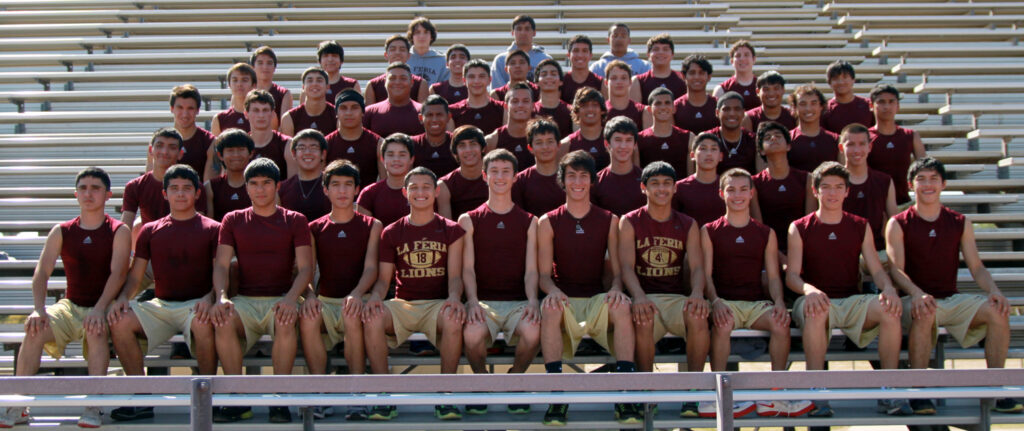 The La Feria Lions hosted the Jim Hudson relays March 8th. They also won the varsity boys division with a total of 177 points. The next team, San Benito, scored 131. There were some fine performances by the Lions.
Isaiah Martinez won the triple jump with a jump of 42 feet and 11 inches. Isaac Guzman won the 1600 meter run and he placed second in the 3200. Andres Galarza won both the 400 meter run and the 800 meter run. The high jump was a clean sweep by La Feria Lee Valdes first place, Bryan Casa second and Marco Alejandre third. Jesus Martinez won the shot put and placed second in the discus. The La Feria relays did well, placing second in the 1600 relay and 800 relay. The team will next compete at the Meet of Champs March 22nd and 23rd.
Jim Hudson Relays Boys Results
SHOT BOYS SCHOOL DIST
1st Jesus Martinez La Feria 46.7 ft
2nd Mike Zuniga Rio Hondo 44.9
3rd Jimmy Hernandez P.I. 42.6
4th Ruben Torres La Villa 40.11
5th Jesse Ramon La Feria 40. 10
6th Juan Aguilera P.I. 39.4
DISCUS BOYS SCHOOL DIST
1st Mike Zuniga Rio Hondo 138.5 ft
2nd Jesus Martinez La Feria 134.2
3rd Dylan Castillo San Benito 133.7
4th Arturo Garza La Villa 133
5th Ruben Torres La Villa 124.5
6th Joe Cruz Rio Hondo 121.6
LONG JUMP BOYS SCHOOL DIST
1st L.B. Bennet P.I. 19.4 ft
2nd Joey Montalvo Rio Hondo 19.3
3rd Armando Garza La Feria 19.2
4th Isaiah Martinez La Feria 19
5th Dagoberto Zamora Progreso 18.11
6th Diego Mueller Idea Quest 18.9
HIGH JUMP BOYS SCHOOL DIST
1st Lee Valdes La Feria 6.0ft
2nd Bryan Casas La Feria 6.0ft
3rd Marco Alejandre La Feria 5.8
4th Marco Colorado P.I. 5.6
5th Matt Perez San Benito 5.6
6th L. B. Bennet P.I. 5.4
TRIPLE JUMP BOYS SCHOOL DIST
1st Isaiah Martinez La Feria 42.11ft
2nd Lupe Rosales Progreso 42.5
3rd Lee Valdes La Feria 40.6
4th Gabriel Barrera Progreso 39.7
5th Dagoberto Zamora Progreso 39.1
6th J. R. Torres San Benito 39
POLE VAULT BOYS SCHOOL DIST
1st Derek Salazar Rio Hondo 13.0 ft
2nd Marco Carrizales Rio Hondo 13
3rd Brandon Huerta San Benito 11
4th Alvaro Vargas San Benito 10.6
5th David Marquez La Feria 10.6
6th Bryan Casas La Feria 9.6
3200 BOYS SCHOOL TIME
1st Rafael Duenes San Benito 09:52.9
2nd Isaac Guzman La Feria 10:21.6
3rd Saul Ochoa P.I. 10:34.8
4th Manuel Rangel Rio Hondo 10:36
5th Aaron Garcia San Benito 10:38.2
6th Eloy Marroquin Progreso 10:52.5
400 RELAY SCHOOL TIME
1st San Benito 44.49
2nd La Feria 44.71
3rd Port Isabel 44.77
4th Raymondville 45.64
5th Santa Rosa 46.5
800 BOYS SCHOOL TIME
1st Andres Galarza La Feria 02:03.7
2nd Javy Espinosa Hidalgo 02:04.5
3rd Edmundo Sanchez Hidalgo 02:04.8
4th Joseph Lunn La Feria 02:04.9
5th James Vasquez La Feria 02:05.9
6th Javier Garza Progreso 02:11.0
110 Hurdles BOYS SCHOOL TIME
1st Gabriel Noyola San Benito 16.11
2nd Lee Valdes La Feria 16.3
3rd Chris Milligan La Feria 16.52
4th Jason Shrank P.I. 16.96
5th Juan Herrera P.I. 17.55
6th Marcos Carrizales Rio Hondo 18.21
800 RELAY SCHOOL TIME
1st San Benito 01:32.7
2nd Raymondville 01:34.3
3rd P.I. 01:34.4
4th Rio Hondo 01:35.2
5th La Feria 01:35.3
6th
400 BOYS SCHOOL TIME
1st Andres Galarza La Feria 51.91
2nd Jonathan Guzman San Benito 52.89
3rd Robert Gonzalez Progreso 53.05
4th Oscar Ruiz Hidalgo 53.83
5th Jonathan Alegria San Benito 54.43
6th Guillermo Marroquin La Feria 54.58
300 Hurdles BOYS SCHOOL TIME
1st Gabriel Noyola San Benito 41.08
2nd Chris Milligan La Feria 41.49
3rd Jason Shrank P.I. 41.93
4th Jaime Gonzalez P.I. 42.21
5th Esteban Ontiveros Progreso 42.67
6th Marcos Carrizales Rio Hondo 43.33
200 BOYS SCHOOL TIME
1st Hernan Guerrero Rio Hondo 23.11
2nd Jacob Lozoya P.I. 23.55
3rd Jose Munoz Progreso 23.6
4th Darren Zavala Raymondville 23.67
5th Heliodoro Alejandre La Feria 23.71
6th Isaiah Morgan Santa Rosa 23.81
1600 BOYS SCHOOL TIME
1st Isaac Guzman La Feria 04:38.5
2nd Rafael Duenes San Benito 4.40.27
3rd Aaron Garcia San Benito 4.48.36
4th Manny Rangel Rio Hondo 04:51.0
5th Eloy Marroquin Progreso 04:53.7
6th Saul Ochoa P.I. 05:02.2
1600 RELAY SCHOOL TIME
1st Progreso 03:32.4
2nd La Feria 03:32.8
3rd Raymondville 03:37.3
4th San Benito 03:40.0
5th P.I. 03:40.1
6th
Final Results POINTS
1st La Feria 177
2nd San Benito 131
3rd Rio Hondo 87
4th P.I. 81
5th Progreso 54
6th Raymondville 40