The Captains of La Feria Tennis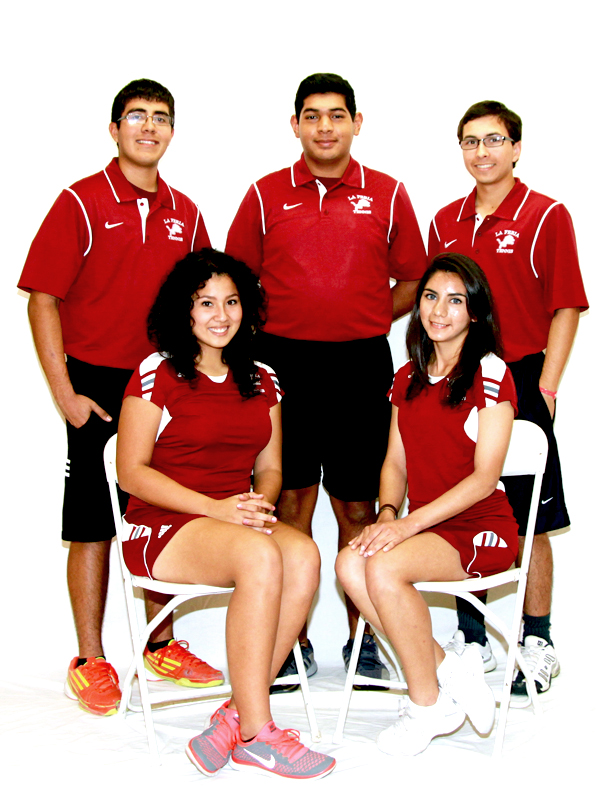 A coach can say its team is defined by its leaders, the seniors, and that is the case here at La Feria High School. Year after year, Coach Hernandez has expected his seniors to lead by example because the younger players look up to them for guidance and leadership. This year's group is no exception to the coach's expectations. Alecxia Ceballos, Amanda Ortiz, Juan Rodriguez, Noe Moraida, and Daniel Warner are this year's seniors and leaders of the team.
Aside from being seniors, they have earned the respect from all their team mates because of what they have accomplished on the courts. All five players have won district and regional championships. Also, they have all been to the state team tennis tournament three years in a row. They will be vying for a fourth trip to Abilene on March 1 as they play in the regional team tennis tournament in Harlingen. All five have been working hard all year long, putting in long hours and hard work to get in better playing and physical shape. Coach Yolanda Luster and Rachel Alaniz have been training the girls while Coach Jaime Rodriguez has been shaping up the boys.
The hard work has been paying off as Noe and Daniel have placed in local tournaments. Juan and Amanda paired up to earn a third place finish at the Harlingen Elite tournament. The most recent victory came at this past weekend's Brownsville tournament where Alecxia and Juan upset the number one seeds from Hanna, 7-5, 7-5, to win the mixed doubles championship.
True to their calling, this year's senior group is leading by example. With the heart of the tennis season still yet to come and just like past seniors, Alecxia, Amanda, Juan, Noe, and Daniel will be looking to finish strong by earning district, regional, and state trips and championships. No matter how they finish, all five have left their mark as members of La Feria Tennis.