TX "Distracted" Driving Awareness Month – More than Just Texting
More Than 3,000 Distracted Driving Deaths in U.S. Yearly
by John Michaelson, Texas News Service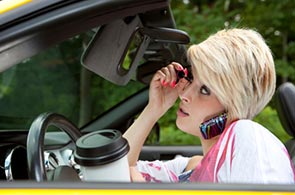 AUSTIN, Texas – Today kicks off Distracted Driving Awareness Month, and experts have said the problem goes way beyond texting or talking while behind the wheel. Joel Feldman, founder of the Casey Feldman Foundation, noted that three-quarters of all distracted driving injuries and deaths are unrelated to cell phones.
"You can't legislate against me reaching for my GPS, me reaching into my glove compartment, me reaching around if I've got an infant in the back in the car seat, me eating – there's just so many things that can be distracted driving," he explained.
Feldman became an advocate for the issue after his 21-year-old daughter was struck and killed by a distracted driver in 2009. Nationwide, he said, distracted driving is responsible for nearly 400,000 injuries and more than 3,000 deaths per year.
Many of Feldman's efforts are focused on younger drivers. He works with lawyers nationwide who deal daily with the tragic consequences of distracted driving accidents to carry the message into schools about the need to break dangerous habits.
"Studies show that teens who grow up in a household where the parents drive distracted are two to four times more likely to drive distracted," he said. "I drove distracted all the time before my daughter was killed – I was a poor role model, I would drive distracted with my kids in the car."
Feldman said many students express concerns about their parents' distracted driving. In Texas, the use of hand-held phones and texting is illegal in school zones.
More information is available at www.distraction.gov and at www.caseyfeldmanfoundation.org.