Maestro Dabrowski Promises Another Stellar Season
Valley Symphony Orchestra Announces 2013-2014 Concerts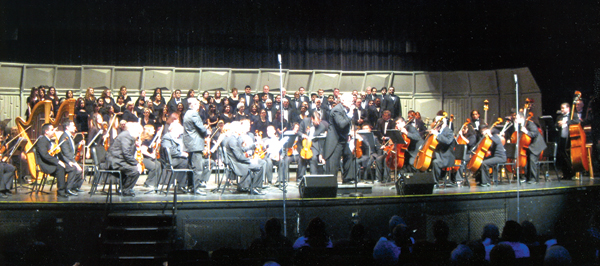 Last week's concert by the Valley Symphony Orchestra was a magnificent musical extravaganza ending this year's concert season. But, what a conclusion. It featured a return engagement by spectacular piano virtuoso Adam Wodnicki. Wodnicki's performance of Rachmaninov's romantic Piano Concerto No 2 in C minor brought the appreciative audience to its feet with a long-lasting, standing ovation.
Guest Artist Wodnicki and Valley Symphony Conductor Peter Dabrowki have more in common than simply their love of classical music. They both are natives of Poland and serve as music directors and professors of music at noted American universities.
Coincidentally, after last week's concert at the Edinburg Conference Center at Renaissance, Doctor Dabrowski flew to his native country where he was invited to conduct the world-famous Warsaw Philharmonic Orchestra as guest conductor.
Before the concerto, Maestro Dabrowski thanked the loyal supporters of the Valley Symphony for their donations which keep the genius of classical music composers such as Beethoven, Brahms, Schubert, and Rachmaninov alive by live performances of their music to new generations."
The Music Director proudly described the six concerts that will be performed by the Valley Symphony Orchestra and Chorale during the 2013-2014 season as the finest assemblage of stellar performances the Valley has ever seen. The series begins with Concert 1 at the Edinburg Conference Center at Renaissance, Thursday September 26, 2013.
The program will feature three outstanding works: Beethoven's Fidelio Overture, Op.72c; the Flute Concertino, Op. 107 featuring guest flutist, Krista Jobson; and Symphony No. 5 Op.64, E minor by Tchaikovsky.
Dabrowski said the 2012-2013 was very successful. "And, we promise to give you another successful season of diverse and spectacular fine music through our VSO concerts, our Youth Symphony, and our Chamber Concerts," he said.
Dabrowski was pleased to name Mercedes-Benz Mark of Excellence as the underwriter of the evening's guest artist. "Without our generous sponsors, we would not be able to bring this world class symphonic music with featured virtuoso soloists to our Valley audiences," he told the packed audience. "We are so indebted to generous individuals and businesses such as Mercedes-Benz of San Juan and many more."
Inquiries about the 2013-2014 schedule can be directed to the VSO website at www.valleyorchestra.org. or contact them directly at (956) 661-1615.