TxDOT Reminds Drivers, Passengers to CLICK IT OR TICKET to Save Lives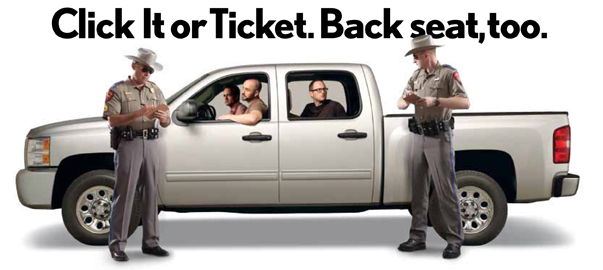 AUSTIN — Texans wear their belt buckles with a certain Lone Star pride, but it's the buckles in their vehicles that could save their lives. More functional than fashionable, life-saving seat belts first debuted 45 years ago when Lyndon B. Johnson's National Traffic and Motor Vehicle Safety Act and The Highway Safety Act went into effect mandating that all automobiles have seat belts as a standard feature. To honor President Johnson's pioneering dedication to safety, the Texas Department of Transportation today launched its 12th annual Click It or Ticket campaign at the LBJ Library in Austin with a car show demonstrating the progression of seat belts through the ages.
"The cost of not wearing seat belts is far greater than a ticket or fine," said Phil Wilson, TxDOT executive director. "Simply put, a seat belt could save your life. Public awareness is working, but we still see some teenagers, pickup truck passengers and rural Texans who aren't buckling up."
Taking a cue from LBJ's leadership, Texas has made seat belt safety a major priority and is proud to be one of the most buckled up states in the union. When the Click It or Ticket campaign began in 2002, only 76 percent of Texans buckled up. Today, 94 percent are wearing seat belts. The National Highway Traffic Safety Administration estimates the Click It or Ticket campaign has saved nearly 3,700 lives and prevented more than 50,000 serious injuries since its launch. The increase in seat belt usage also has saved an estimated $10 billion in wages and productivity losses, medical expenses, insurance premiums, taxes and other costs.
Despite an increase in seat belt compliance, there is more work to be done with the lives of Texans at stake. Initial TxDOT data from 2012 indicates traffic-related fatalities in Texas are up by 11 percent. In 2012, there were 3,400 fatalities due to traffic crashes across the state.
Data also shows that only 82 percent of pickup passengers are buckled when riding compared to more than 91 percent of passengers riding in cars. Pickups also are more likely than passenger cars to roll over or eject unrestrained occupants in a crash.
As part of the Click It or Ticket initiative, law enforcement officials across the state will be looking for and ticketing unbuckled drivers and passengers in an effort to raise safety awareness and prevent fatalities. By Texas law, all occupants of a vehicle, including back seat passengers, must wear a seat belt. Each unbuckled occupant faces a ticket and fines up to $200, plus court costs. Last year, more than 21,200 seat belt citations were issued during the Click It or Ticket campaign.
This year's campaign enforcement period dates are May 20th-June 2nd.
Learn more about Click It or Ticket by liking the TxDOT Facebook page or visiting www.texasclickitorticket.com.
For more information, contact TxDOT Media Relations at [email protected] or (512) 463-8700.