Harlingen "Shake Away" Lymphoma ZumbaThon Raises $4,173 for Cancer Research
Community groups and businesses come together to support cancer research in a one-day Zumbathon at Harlingen High School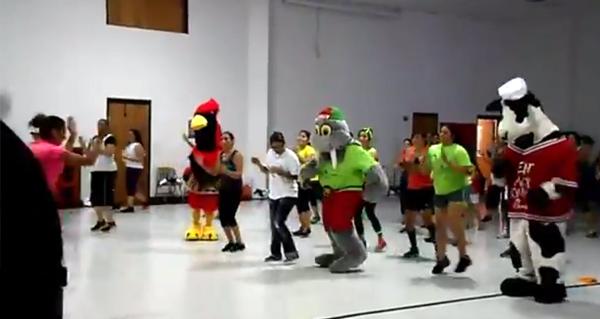 The "Shake Away" Lymphoma ZumbaThon fundraiser was held at Harlingen High School on July 13, 2013, to raise funds to support the University of Texas M.D. Anderson Dr. Felipe Samaniego's Lymphoma Clinical Trial Program. The total money raised was $4,173.00 of which 100% goes towards the Lymphoma Clinical Trial Program at M.D. Anderson.
The event was hosted by the Harlingen High School Cardettes and the Harlingen High School JROTC. The event was coordinated by Harlingen Family Dentistry and Shake if off Fitness and Nutrition Studio. There were three mascots; Willy the Walrus from Harlingen Family Dentistry, the Chick-fil-A Cow and the Harlingen High School Cardinal Bird doing Zumba.
The Harlingen Police Department provided their Child Safety Program display.
Harlingen Medical Center provided medical information along with various gift items.
Harlingen Family Dentistry provided oral health care kits, MD Anderson informative materials as well as oral health information.Face painting was also offered.
The U.S. Army Recruiting Station provided 200 dog tags that were in support of the ZumbaThon along with other souvenirs such as pens, pencils, and key chains.
The cadets from the Cameron County Juvenile Justice Center held car washes and helped sponsor T-shirts along with MJ Screen Printing.
Zumba Studios from San Benito, Harlingen, Rancho Veigo, McAllen, Mission, Mercedes, Santa Rosa and Brownsville participated.
OG2 Productions with Orlando Gonzales and DJ TJ provided some great inspirational music.
The Harlingen High School Cardettes, with Ms. Lisa Moreno assisted by Ms. Magda Padilla, performed an awesome dance number. The Harlingen High School JROTC cadets, with instructor Master Sergeant Tony Gonzales, performed their drill team routine.
Participating sponsors:
Harlingen Family Dentistry
Shake It Off Zumba Studio
Harlingen Medical Center
Boggus Motors of Harlingen
Chick-fil-A
Cameron County Juvenile Justice Center
MJ Screen Printing
Little Red School House
US Army Recruiting Station of Harlingen
Walgreens Tyler, Harlingen
HEB Morgan Blvd. Harlingen
Harlingen Police Department Child Safety Program
OG Productions, Orlando Gonzales and DJ-TJ
Participating Zumba Studios:
Shake it Off Fitness from San Benito
The Bod Squad from Harlingen
Phoenix Dance Studio from Rancho Viejo
Nurythmz Dance Studio from McAllen
Absolute Z Dance & Fitness from Mission
Divas Fitness Center from Mercedes
Liz's Dance Studio from Santa Rosa
Erika Gonzalez of Gold's Gym Brownsville
Special appreciation goes to the Chick-fil-A Cow, the Harlingen High School Cardinal bird and Willy the Walrus special ambassador for good dental health for Harlingen Family Dentistry.