Rio Bank Now Serving the Harlingen Area
Chamber of Commerce Welcomes New Branch
When the doors opened for business at the latest branch of the Rio Bank last month in Harlingen, it became the eighth Valley location for this forward-thinking banking group. The President and CEO of Rio Bank, Ford Sasser, said, "We are meeting personal and business banking needs throughout the Valley as only a locally-owned bank can, and this new Harlingen branch is just one more reason why our bank is "Your Kind of Bank and Your Kind of Banker."
Rio Bank President Ford Sasser and Charlie Hervey, Senior Vice President, were joined by the Ambassadors welcoming committee of the Harlingen Chamber of Commerce for their Grand Opening and Ribbon Cutting Ceremony. Sasser said that for some time they had heard from many Harlingen residents—both customers and non-customers—that Rio Bank should have a Harlingen Banking Center.
"Well, it's now a reality," he said. "Our new facility is very visible and convenient being located on the Southeast corner at the intersection of Highway 83 and South Stuart Place Road.
Harlingen Mayor Chris Boswell spoke to the crowd and officially welcomed the new Rio Bank branch to the community. Boswell commended them on their choice to expand their business to the Harlingen area, and wished them much success in their new venture.
Charlie Hervey, Senior Vice President and Branch Manager of the Harlingen location, is a Valley man, as is Ford Sasser, the President.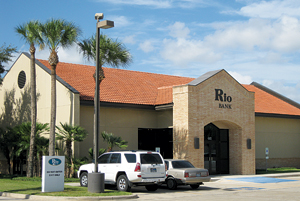 "And most of the staff at our local Rio Banks are Valley people," Hervey told the visitors. "That is important to our customers," he said, then stressed, "But, being from the Valley is not as important as having a bank that understands the Valley, and a staff that will execute our customers' needs and service requirements."
Hervey said that banking is "my life." He relates that after getting his Bachelor of Science and Economics degrees at Texas A & M, he wound up in banking in the Valley. His last post was with the First National Bank of Harlingen. He left FNB to become the Branch Manager of the new Rio Bank on April 15, 2013.
"I jumped at the opportunity to join this progressive, forward-thinking group of bankers that opened the first Rio Bank in McAllen in 1985, and has steadily grown with the fast-growing Rio Grande Valley," he said.
He and his wife, Tricia, are from Rio Hondo and the San Benito area. They have two daughters in College and a son attending the eighth-grade in Rio Hondo. "We are from the Valley, and know the Valley," he said, adding, "That is part of the reason our customers at Rio Bank find a "right-at-home" environment and feel comfortable doing their banking business with us."