La Feria News Honored for 90 Years of Service to the Community
Updated: November 15, 2013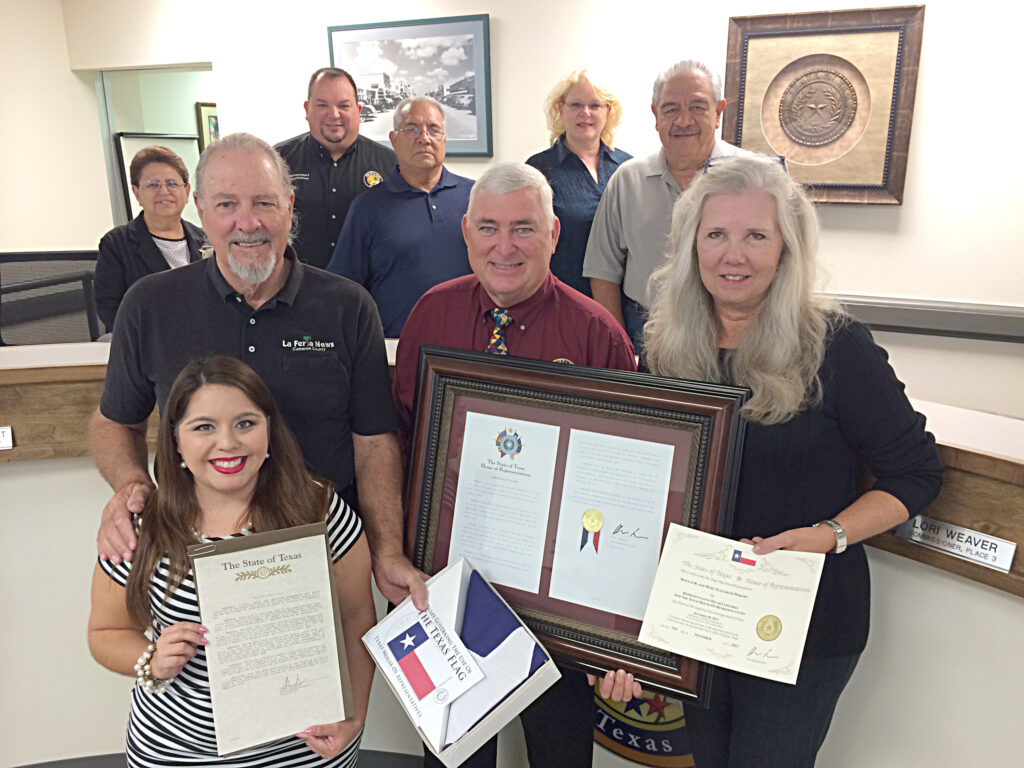 Mayor Steve Brewer and  Michelle Villarreal of  State Representative Oscar Longoria's office presented  La Feria News owners Don and Mary Beth Wright with a resolution from the State of Texas House of Representatives celebrating the 90th Anniversary of the founding of the community newspaper. First printed as the La Feria News in 1923, the Wrights bought the paper in 1997 and work to promote the positive activities of the city and its residents. Married for almost 40 years, the couple works as a team with Don handling the sales and Mary Beth running the editorial side of the business.
Shown in the photo are; (l-r front) Michelle Villarreal, La Feria News Publisher Don Wright, Mayor Steve Brewer, La Feria News Editor Mary Beth Tankersley Wright and (l-r back) Commissioners Angelica Baldivia, John Betancourt, John Hernandez, Mayor Pro-Tem Lori Weaver and Victor Gonzalez, Jr.  Representative Longoria's office also presented a Texas flag that was flown over the State Capitol at Austin to the newspaper.
The La Feria News is published weekly and has a circulation of 5000. The paper is available online at www.laferianews.net. The Wrights expressed their appreciation for the support of the city, school and local residents throughout the last sixteen years.