Lions Win Battle of 506
Updated: September 19, 2014
La Feria Rolls Past Warriors with 51 – 0 Victory
By Jaime Acuna
The La Feria Lions came to Santa Rosa determined and focused on playing a hard fought game.
The Lion offense got on the board first when junior quarterback Isaac Galpin galloped in from 3 yards out to score the first of many touchdowns in the game.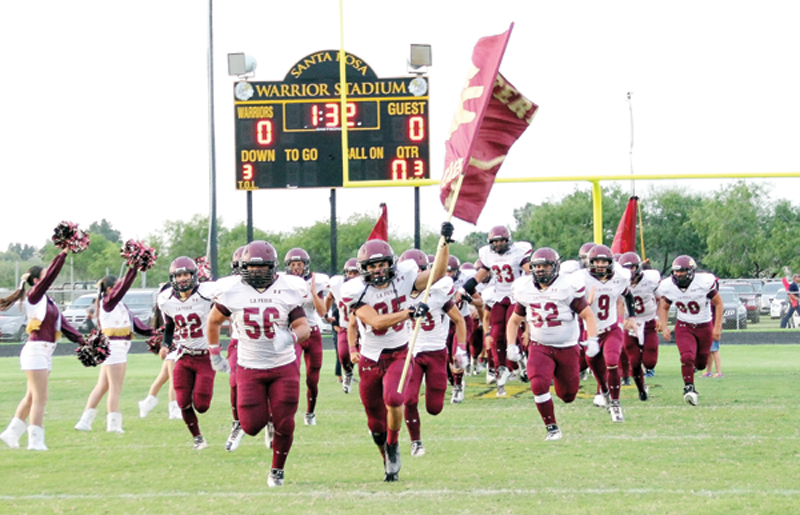 Sophomore, Brandon Perez later scored on a 45 yard run to increase the lead to 14 – 0. It would stay that way until halftime.
The Lion defense did their job well allowing only one first down in the first half of the game.
With only a two touchdown lead the Lions went into halftime knowing they would have to play better to fend off the inspired warriors football team.
The third quarter got off to a strange start when all the lights went out in the stadium, leaving the field pitch black. After about 20 minutes, the lights came on and the fireworks would soon follow as the Lions scored time after time and putting the game away with a 51 – 0 advantage over the warriors.
Multiple players contributed offensively for the Lions. The offensive line created big running lanes for the running game and helped open up the passing game as well.
The Lions defense was outstanding to say the leastforcing 5 turnovers in the game.
Three warrior passes were intercepted, senior defensive back, Ozzie Cisneros personally managed two of the pick offs.
The Lions also had 6 sacks and scored twice on special teams. All in all, the young Lions played a great game and hope to continue as they will now face the Mercedes Tigers at Lion Stadium on Friday, September 12th.
With the win over Santa Rosa, the Lions improve to 2 – 0 for the year.
We would like to wish these young men good luck and good health as the season continues. Go Lions!!
More photos:
[GALLERY=28]