La Feria Boys Cross Country Team Win Second District Meet
Updated: October 31, 2014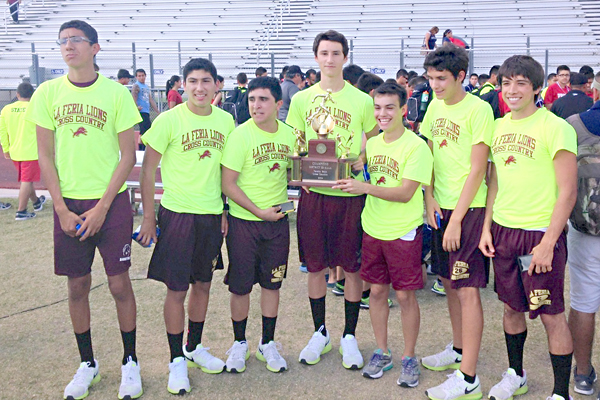 The La Feria Boys Cross Country team won their second District Cross Country meet . They retained the title which they won last year with an outstanding team effort. The team had defeated the favored Progreso team last week by the sixth man tie breaker rule.
The district meet proved to be not so close. The Lions won by a score of 36 for La Feria and 46 for Progreso.
The team was led by Joseph Lunn the overall second place finisher. He ran a tough race and was followed by Gabriel Prado the 5th place finisher.
Gabriel ran an outstanding race providing the team with great position. Freshman Reyes Rodriguez was next to Prado finishing in 6th place. The other top finishers were Vincent Vento 11th place,Isaac Guzman 12th ,Carlos Rodriguez 13th and Billy Guerra 21st. The other team members include Mario Aleman ,Julian Trevino,John Vazquez and Dimas Trevino.
The team will next travel to San Antonio Texas to compete at the Region 4 Cross Country Championships November 1st.