Dr. Susan Hunter Performs New Robotic-Assisted Surgery at Valley Baptist in Harlingen
Updated: January 13, 2015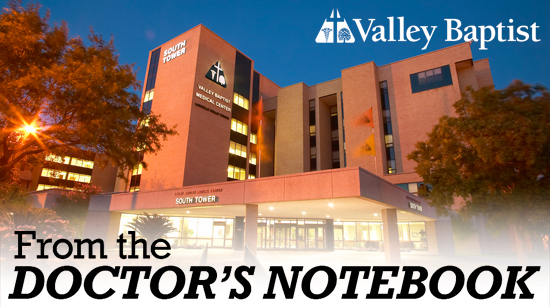 HARLINGEN — Dr. Susan Hunter, Gynecologic Surgeon, used the "single-site" da Vinci® 'Si' robotic surgical system at Valley Baptist Medical Center in Harlingen to perform the Valley's first robotic-assisted hysterectomy (removal of the uterus) surgery through a single small incision in a patient's navel (belly button).
The entire surgery was performed through one incision, one inch long, in the patient's belly button.
Specially-trained surgeons on the Valley Baptist medical staff use the robot as an extension of their own hands to perform minimally-invasive surgeries for patients with gynecological, urological, gallbladder, gastric reflux and other conditions — including for treating cancer patients, such as women with cervical and uterine cancer, and men with prostate cancer.
During the procedure, Dr. Hunter guides the robotic arms which provide a high precision method to perform surgery through a tiny incision.  The robot doesn't move on its own.
"The robot is really just a large tool which is controlled by myself, the physician, at all times," Dr. Hunter said. "It's a way to be able to save women from the pain and suffering of a big incision, and from missing time away from work because of a major surgery."
"The robot allows us to do more delicate and precise procedures than can be done by any other method, such as open surgery or laparoscopic surgery," Dr. Hunter said. "In many cases, this means there is less bleeding and pain for the patient … it is a great thing for the people of the Valley to have the robot here and to have physicians with the ability to utilize this cutting-edge technology."
For more information about minimally-invasive surgeries, consult your physician and visit www.ValleyBaptist.net