Tips for Eating Healthier During the New Year
Updated: January 16, 2015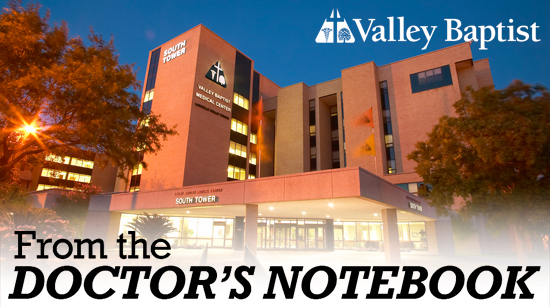 HARLINGEN –
  As we continue to move into the new year, it's important to be mindful of tips for healthier eating during upcoming parties and gatherings – such as getting together for birthdays, or at family and friends' homes for football playoff games and eventually on Super Bowl Sunday.
Dawn Rodriguez, RN, BSN, Director of the Medical and Surgical Weight Loss Program at Valley Baptist Medical Center, shared the following tips for healthier eating when you are attending a party or special event:
*  Avoid skipping meals for the day trying to "save" up for the party later.
*  Eat a light snack before leaving for the party.  It is not a good idea to arrive at a party hungry.  You will be tempted to over-eat.
*  Sit or stand far away from the table with food or buffet items.
*  Use the smallest plate available.
*  Use the 80/20 rule.  Most of your plate (80%) should be vegetables, whole wheat crackers, fruit, protein and nuts.  These are high in fiber, and will keep you feeling fuller longer — which will help you to not over-indulge.  Allow yourself a little bit (20%) of desserts or other goodies.
* Be mindful of what you are eating.  It is easy to mindlessly graze a buffet and be unaware of how many calories you just consumed.
*   Keep your hands full.  Hold a low-calorie beverage in one hand and a purse or napkin in the other.  You will be less tempted to "grab and go".
*  Choose your beverages wisely.  Alcohol is high in calories.  Your best choice is to stick with water or diet sodas.  If you choose to have a drink, select light wines and beers, and use non-alcoholic mixers such as water and diet sodas.
*  Eat slowly and chew your food thoroughly.  Wait at least 15 minutes before going back for a second helping.  This gives your body enough time to feel full.
*  Offer to bring a dish to ensure that a healthy option is available.
For more information about weight loss, contact Ms. Rodriguez at (956) 389-6896 or by e-mail at [email protected]; and visit www.ValleyBaptist.net/medical-services/surgical-and-medical-weight-loss.