How It Was in the Early Days
Updated: February 20, 2015
Tony Guevara shares his life story
The centennial celebration of the founding of La Feria has stirred the memories of countless pioneer families who have unlocked stories to tell and share. Tony Guevara is one of that generation. He was born in 1936 on Villarreal Street, and has spent his entire life in La Feria. His recollections will touch the hearts of many, as his life crossed the lives of so many.
It was a different world then than it is now. He and his generation saw changes and improvements that still benefit our citizens. He was at the lead of many of those great steps forward. "I did what I did because I loved all the citizens of La Feria, and wanted a better life for them," he said.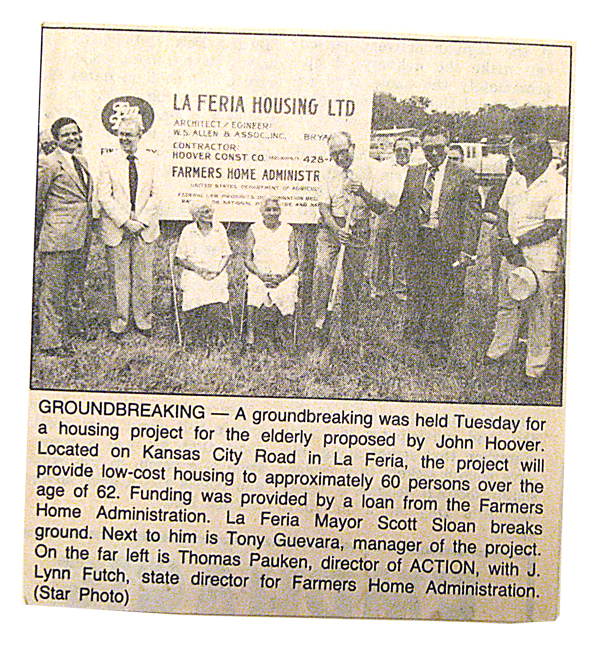 To that end, in 1971, he campaigned and became the first Mexican-American to be elected to the school board of the La Feria Independent School District. Guevara served on the board for 17 years, becoming the president of the administrative body most of the time.
Guevara saw early-on the need for a bigger and better high school for La Feria. It was through his initiative that the open pasture acreage just west of town became the location of the current La Feria High school and adjacent school grounds.
President Tony Guevara organized his team to move the project forward. The team consisted of Tony Guevara, President; La Feria I.S.D; Johnny Jones, President, First National Bank; William B. Green, School Superintendent, and the District business manager.
Additionally, through his efforts, funds were found with a loan from the Farmers Home Administration to build a housing project for the elderly located on Kansas City Road in La Feria.
A La Feria News picture of the event is shown in the attached photograph of the groundbreaking ceremony, Project Manager Guevara is shown to the right of La Feria Mayor Scott Sloan as he breaks the ground. On the far left is Thomas Pauken, director of ACTION, with J Lynn Futch, State Director for Farmers Home Administration.
Look closer at the faded picture: The lady on the right is Rosa Aguilar, who was celebrating her 100th birthday that year 1998. That achievement was recognized in a formal proclamation by Bob Bullock, the then Lieutenant Governor of Texas. "Rosa later died at the age of 102," he said. Tony had to stop for a moment, shed a tear, and take a breath. He said, "my wife, Dora Guevara, was her daughter. My dear wife just died last year in October 2014."
The seated lady on the left in the picture is Amelia Cisneros, a politically active citizen known to many and very much involved in local affairs.
Guevara recalled that he had a picture of his 1954 graduating class from La Feria High school. "There were seven in the class." The picture shows four: left to right is Tony Guevara himself, Dillard Fitch, Buzz Hudson and Dow Johnson. Three more were in the class, but they were not available because they had immediately joined the .U.S. Navy and shipped out. They were: Oscar Mercado, Freddie Ransom, and Danny Gunn.
"People will remember that class," he added with a chuckle, "we were a small school, so all of us played football, basketball, played in the band, or whatever. Buzz Hudson was an outstanding player, and it is not surprising that his brother, LFHS grad Jim Hudson, became a professional football player. He was playing pro football with the New York Jets alongside Joe Nameth the year they won the Superbowl. Tony thinks they are all still living, except Buzz.
Tony talked about his family with pride: "Dora and I had two children: Michael is a talented musician who now lives in Katy, Texas. He studied music under Don Fleuriet.
Eight years ago, he opened the Cinco Ranch Conservatory in Katy, Texas. It is a music school designed for students of all instruments with 480 now enrolled."
"Our daughter, Melissa Morris, lives in League City, Texas where she teaches school in the Texas City Independent School District. We also have two grandchildren that we are very proud of."
As our readers can see, Tony's whole life has been woven into the fabric of La Feria, Texas. He relates fondly, "Dora and I were born and raised at a long-gone time when everybody knew everybody, loved each other, and knew just about everybody's business.
Then looking back on those days, he said, "those times are gone forever, I suppose," but added: "I've had a beautiful life in my hometown, and have known and worked with some great people, great friends all. . And, finally, I'd like to say, 'Dora and I were married for 60 years and one month–she made me a happy man–I've been blessed.'"