Free Diabetes Walk, Screenings Scheduled for Saturday, Oct. 31st
Updated: October 23, 2015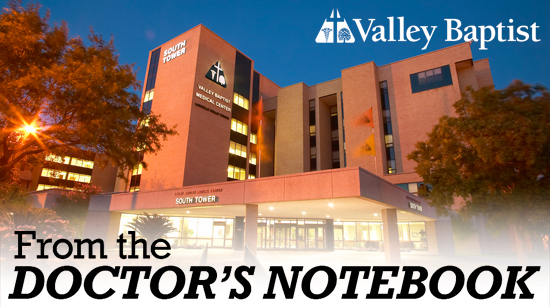 HARLINGEN – A free "Walk in the Park" Diabetes Walk has been scheduled for Saturday, Oct. 31 (Halloween Day) at 8 a.m. at Lon C. Hill / Fair Park, 1402 Fair Park Blvd. in Harlingen. Free screenings, along with registration, will begin at 7 a.m. that morning.
At the walk, participants can choose to walk 1.2 miles, 2.4 miles or three miles. T-shirts will be given to the first 300 registered walkers (including children). There will also be blood pressure screenings and healthy snacks.
In addition, participants at the event can ask questions to a doctor with the Valley Baptist Family Practice Residency Program, ask a pharmacist about medications, and / or talk with a dietitian from Aramark Healthcare about healthy eating.
There will also be screenings and / or health information available from the Valley Baptist Stroke Program, Valley Baptist Cardiovascular Care, the Valley Baptist Health & Fitness Center, the Rio Grande Valley Academy of Nutrition and Dietetics; and the High School for Medical Technologies; as well as information on health insurance and organ donation.
The walk, which is sponsored by the Valley Baptist Diabetes Center and the American Diabetes Association, is being held as a kick-off to National Diabetes Month in November, to raise awareness of the impact of diabetes in the Rio Grande Valley. To register for the walk, please call 1-888-902-5433 (LIFE). Registration will also be available on site the morning of the event.