Neonatal Memorial Service to be Held in Valley
Updated: October 16, 2015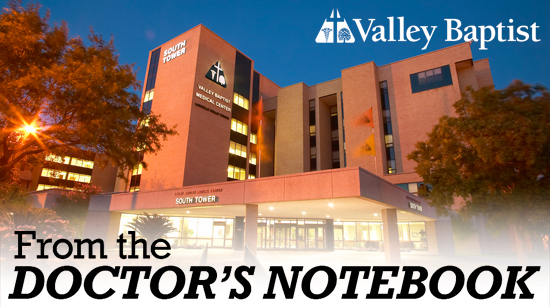 HARLINGEN  – Valley Baptist Medical Center-Harlingen extends an invitation to a memorial service to parents who are experiencing loss of a child through miscarriage, stillbirth or newborn death. The special service will be held Thursday evening, Oct. 15, at 6 p.m. at Valley Baptist-Harlingen, on the first floor of the hospital (through the East Tower entrance off Treasure Hills Boulevard, in the "Magnolia Grille" room).
Chaplain Joe Jaime of Valley Baptist said the theme of the memorial service will be "Precious life … so quickly lost … but never forgotten."
"This is not a service to nurture hurt, but to strengthen and validate memories – and to give a special place in our hearts for the memories of those who were with us for such a short period of time," Chaplain Jaime said. "We are inviting grieving parents to please join us as we remember their little ones."
The service will include a special "flower ceremony", in which parents and other family members will be invited to come forward to place white flowers on a heart-shaped wreath in remembrance of the child they lost. Assisting parents during this emotional moment will be Mary Esther Garcia, RN, Director of the "Mother-Baby" maternity unit and nursery at Valley Baptist; Isaura Figueroa, RN, Director of Labor & Delivery for Valley Baptist; and hospital volunteers, who will also present a gift token to each parent in remembrance of their child.
Following this ceremony, the service will move outside to the lawn of Valley Baptist, where parents and brothers and sisters of deceased babies will release butterflies in memory of their loved one who passed away.
The service will be ecumenical, and members of all faith communities are welcome to attend. The service will also include the reading of a poem, "A Walk to Remember," in memory of the deceased (in English and Spanish); Scripture readings; prayers; reflections by Leighann Villines, RN, and Elvia Loera, RN, of Valley Baptist Labor & Delivery; and music by certified nurse midwives Helene Dixon, who will play the violin, and McLain Mallory, who will play the harp.
For more information, or to RSVP for the memorial service, please contact the Valley Baptist Pastoral Services Department at (956) 389-1194, or e-mail [email protected].