The Pilot and the Seeing Eye Dog
Updated: December 11, 2015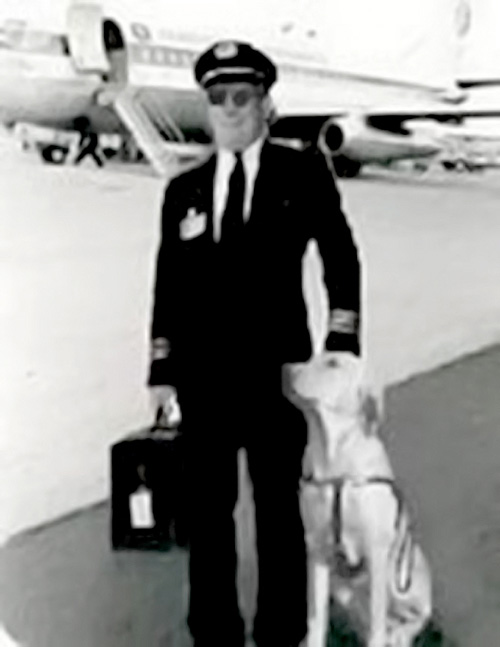 by Bill Keltner
This week's story is a little departure from our usual stories. A dear friend of mine, who is also a LA FERIA NEWS reader, shared a delightful story that made the news a few years ago in California.
It was in a local newspaper, but he can't remember which one. We are indebted to my friend, Jim Simcox for the story and attached picture, even though it is poor quality.
It goes this way: It seems that an older lady was flying from Seattle, Washington to San Francisco, California. Her name was Kathy, and she had her seemg-eve dog with her seated beside her on the plane.
Unexpectedly, (perhaps due to fog) the airplane was diverted to Sacramento. The Flight attendant explained to the passengers that there would be a delay; and, if the passengers wanted to get off the plane, that it would be o.k. The airplane would be re-boarded in about "50 minutes." Everybody got off the plane to stretch, but the one little, old lady who was blind.
One passenger said he noticed the lady, and he thought she was blind because he saw the seeing-eve dog lying quietly at her feet underneath the seats in front of her. He did not know that "Buddy" was the dog's name. He heard the Pilot approach the blind passenger and say: "Kathy, we are in Sacramento.
And we'll be here for about an hour. Would you like to get off the plane and stretch your legs?" The blind lady replied: "No, thanks, but maybe 'Buddy' would like to get off and stretch his legs." The airline pilot said: "O.K". where is Buddy?" What happened next is pure, classic comedy, The courteous pilot accepted the challenge and deplaned with Buddy.
When the people in the GATE AREA looked up as the pilot and the dog descended, they came to a complete standstill! Many thought they saw their pilot getting off the airplane they were about to reboard with a seeing-eve dog. To add to the confusion, the pilot was even wearing sunglasses!
Seeing that, some people waiting to get back on the plane, scattered. They not only tried to get another flight, but some tried to change airlines. This was reported as a true story.
You don't hear a story like that every day: It was worth a hearty chuckle.
Can we draw a lesson from this true story? Yes, here is the lesson: Just remember that all things are not always as they may appear. We need to get the facts before we make a conclusive judgment.
And, remember that a "day without laughter can be a day wasted."
Editor's Note: In checking the veracity of this article (and hoping to find a source) we found this on Snopes.com:
In the mid-1990s, this tale was told about George Shearing, the blind jazz pianist (who pretended to be the pilot during a stopover in San Francisco on a flight from from Los Angeles to Seattle).

In November 2003, someone sent the "pilot's dog" story to Dear Abby, presenting it as something a friend had witnessed on a flight from Seattle to San Francisco with a stopover in Sacramento. Abby replied:  

"For someone with a fear of flying, that may have been the last straw. However, with airline technology advancing at the rate it has in recent years, what they surmised may one day be reality."