School Tours
At Grace Heritage Ranch, we enjoy passing on what we learn. Some of the articles you read here will be directly informational, some are what we learned from a recent experience, and some are just for giving you a glimpse into what we're doing out here. Today, I'd like to share our recent experience with having two large school groups from LaSara and San Perlita ACE clubs (over 100 students total) come out for private tours.
Our largest regular tours have been about 15 people per group. When you have a mix of different grade levels from kinder to high school though, it can be tough to keep the information relevant to everyone. We decided to change the regular tour into stations for the different age groups to rotate to. We could stay at one place, speaking on what each of us knew best, tailor the information to the age level present, and the groups would be smaller and get the chance to walk around and talk to everyone.
Great! Now, how much time per station? How do we know when to switch groups? What exactly will you be discussing for each grade level? What can the kids do so that it's fun and active learning, not just passive lecture? All this and more went into the planning.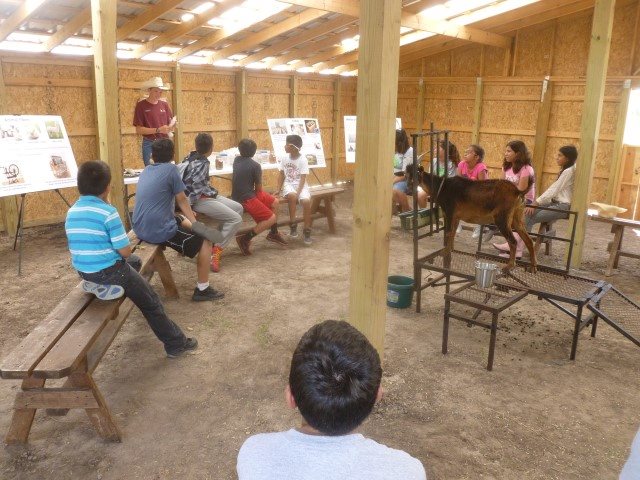 Finally, tour days arrived. We did a whole group time in the barn, and then each of us broke off with a group and took them to our animal stations. After about 20 minutes, we'd bid good-bye to that group and then receive the next. We had so much fun meeting everyone and sharing what we've learned about homesteading that 2 ½ hours just flew by. The students really enjoyed learning about the animals and why we have them, milking the goat, spinning fiber into yarn, and working in the garden. We'll call this: success.
To learn even more and get hands-on experience, join us at Grace Heritage Ranch for our Saturday morning tours. We are located just 30 minutes northeast of Harlingen, TX near Santa Monica. Please visit us at www.GraceHeritageRanch.com or www.Facebook.com/VisitGHR. For a recorded message, please call 1-855-447-8687. We offer both public and private tours.