Colonel William Darden Maples
July 24, 1935 – August 14, 2016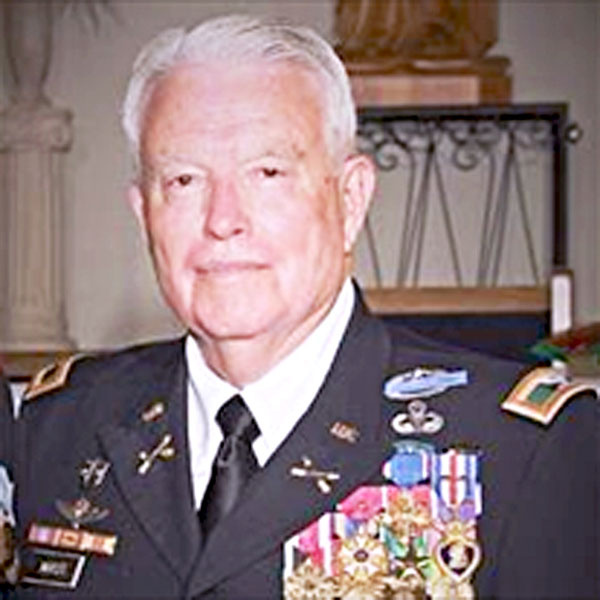 "De Oppresso Liber" – Colonel William Darden Maples, United States Army Special Forces, left this world on the 14th of August 2016. Raised in La Feria, Texas, COL Maples was known for his "bigger than life" presence and unwavering commitment to his family, friends, and country. He dedicated his life early on to fighting for those oppressed and defending the country he loved. A highly decorated war hero, he was a valiant but humble man who rarely spoke of his incredible military accomplishments.
COL Maples grew up riding horses along the banks of the Rio Grande. His Tom Sawyer like life was filled with adventure and fun. He learned to speak Spanish fluently while working alongside his father's employees at the La Feria Water District. In high school, the young COL Maples learned to be a team leader as the starting halfback for the La Feria Lions football team. His baritone voice caught the attention of the music teachers who taught him to sing and play the saxophone. His amazing rendition of "You'll Never Walk Alone" was heard by thousands of residents of the Rio Grande Valley.
COL Maples enlisted in the U.S Army at the age of 17, where he excelled as a Paratrooper with the 11th Airborne Division earning the coveted Master Parachutist Badge in less than 2 years. Upon attaining the rank of Sergeant First Class, Maples attended the Army's Officer Candidate School and was commissioned as a Second Lieutenant in the Infantry. Already excelling as an Infantryman, COL Maples volunteered for the U.S. Army Special Forces "Green Berets" and began conducting operations around the world. As one of the youngest Operational Alpha Detachment Commanders (A-Team), COL Maples was handpicked to participate in the first High Altitude Low Opening (HALO) freefall teams, which involved parachute jumps from 30,000ft. Later, COL Maples was deployed to the Republic of South Vietnam on three separate tours of duty, where he served in the Mekong Delta and on the island of Phu Quoc. During his service in Vietnam, COL Maples was recognized for Gallantry in Action and was awarded over 20 medals for Bravery. Some of his highest awards were the Distinguished Service Cross, 3 Silver Stars, 2 Bronze Stars, 3 Purple Hearts, 4 Gallantry Crosses, and the Republic of Vietnam Medal of Honor. Some of Maples' experiences were documented in the widely published book, "The Two Shores of Hell," by French author Michelle Ray. After Vietnam, COL Maples was assigned to lead the Jungle Operations Training School in Panama. There Maples taught military students advanced survival/evasion techniques, helicopter rappelling, and hand-to-hand combat. COL Maples continued his military career serving in Germany, Panama, and the United States, before retiring in 1974.
After retiring from military service, COL Maples was named Vice President of the Harlingen National Bank in 1974. During this time, COL Maples led several charitable and civic organizations in the Harlingen area including serving as the Chairman of the American Heart Association of Harlingen from 1974-75. He was also Co-Chairman of the 1978 Harlingen United Fund drive and was President of the Rio Grande Valley chapter of the Air Force Association in 1977. As an avid hunter and fisherman, COL Maples was the co-owner of the Alta Vista Hunting and Fishing Lodge near Lake Guerrero, Mexico during the 1980's. He served as a City Commissioner of San Benito from 1988-1990 and was a member of the St. Anthony School Board in Harlingen for several years.
More recently, COL Maples took up sailing. He often sailed in the Gulf of Mexico and was passionate about this new hobby. He was later named the Commodore of the Port Isabel Yacht Club and enjoyed his time on the water. In every home COL Maples owned he would create unique and beautiful additions through his mastery of carpentry.
Most of all, COL Maples loved spending time with his family. He was preceded in death by his parents, Mac and Dorothy "Fina" Maples and his younger brother, Francis "Pancho" Maples, who was killed in Vietnam. He is survived by his wife, Catherine Link Maples; brother, Robert Maples; daughters, Sherri Wilson, Theresa Linney, Geraldine Haynes; sons, Skip Maples, MAJ Austin Maples, MAJ Cameron Maples; and his 16 grandchildren and 5 great-grandchildren.
He will be remembered for his valiant accomplishments as a warrior, but he will be forever missed as the loving patriarch of his family. We will miss COL Maples dearly, but we know "he will never walk alone." We will be with him again one day in God's glory. As General Douglas MacArthur once famously said, "Old soldiers never die; they just fade away."
Visitation was held Friday, August 19, 2016 from 12:00 pm to 9 pm with a Rosary at 7 p.m. at Buck Ashcraft Funeral Home.
Funeral Mass was held Saturday, August 20, 2016 at 10:00 am at St. Francis Xavier Catholic Church in La Feria. Burial with full military honors by Green Berets from the 1st Battalion, 5th Special Forces Group at Restlawn Memorial Park followed the funeral. RGV Patriot Guard served as escort.
In lieu of flowers the Maples family request you donate to the Saint Anthony's School Endowment Fund at www.saintanthonyeagles.com/endowment-fund, or the Green Beret historical memorial project for Colonel Bill Maples at www.gofundme.com/saluteahero.
You are invited to sign the guest book or share a memory at www.buckashcraft.com.
Arrangements were with Buck Ashcraft Funeral Home, 710 Ed Carey Dr., Harlingen, TX 78550, (956) 423-3636.