Michael D. Simich
Updated: November 4, 2016
February 8, 1936 – October 21, 2016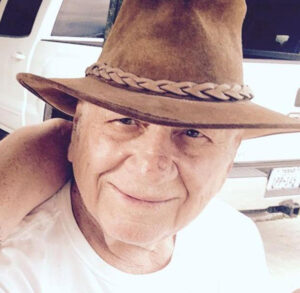 Michael D. Simich, 80, of Navasota passed away Friday, October 21st at The Med in College Station. The family plans to hold a private memorial service at a later date. Arrangements are under the direction of Nobles Funeral Chapel.
Michael was born February 8, 1936 in LaFeria, Texas to Louis and Thelma (Martin) Simich. He married Kathaleen Lindstron March 3, 1962 in Houston and together they raised two daughters. Mr. Simich owned and operated Mikes Ice House in Houston for over 20 years. He was an avid motorcycle enthusiast, but upon his retirement and subsequent move to Grimes County in 2000, he traded his Honda Goldwind in for a John Deere. Before his children were grown, the family would vacation in Colorado in the family motorhome, along with his mother and his canine companion, Max. Michael enjoyed grilling for family and friends, watching collegiate football anytime Notre Dame was playing; yard work and his grandchildren. He will be remembered for his warm smile.
He is survived by his wife of 54 years, Kathaleen Simich of Navasota; daughters Kim Chavez of Austin and Christine Simich of Navasota; sister Mary Eleanor Simich of LaFeria; brother and sister-in-law Joe Dan and Pat Simich of Katy; and grandchildren Andi, Jake and Allison Chavez.
He was preceded in death by his parents; brother Louis E. Simich and son-in-law Artie Chavez.
You are invited to leave kind words and fond memories at www.noblesfuneral.com.