Edauto Garcia
March 22, 1935 – May 25, 2017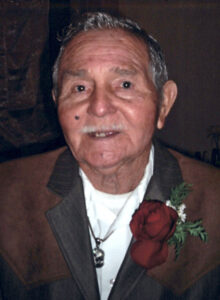 La Feria – Edauto Garcia, 82, died Thursday, May 25, 2017, at Harlingen Medical Center, surrounded by his loving family.
Mr. Garcia was born in La Feria, Texas and lived there all his life. He is preceded in death by his son Bobby.
Mr. Garcia is survived by his wife, Beatriz V. Garcia; one son, Eddie; two daughters, Blanca and Dora; 11 grandchildren, Liza Ann, Joshua, Serena, Eliseo, Bobby Lee, RJ, Nathan, Nicholas, Christian, Matthew, Angelina; He also leaves behind 19 great grandchildren.
Visitation will be held on Friday May 26, 2017 from 2:00 pm – 9:00 pm rosary to be recited at 7:00 pm. Funeral service was held at St. Francis Xavier Church in La Feria burial to proceed to Restlawn Memorial Park. Arrangements under the direction of Heavenly Grace Funeral Home, La Feria, TX.