Geneva Robertson Byerley Sloane
Updated: September 19, 2017
April 14, 1921 – September 3, 2017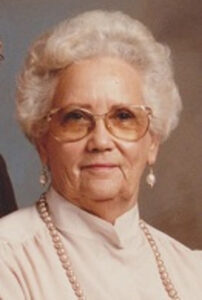 Geneva Robertson Byerley Sloane passed away September 3, 2017 in Humble, TX at age 96. She was born April 14, 1921 in Loudon, Tennessee to the late Lucy Kate and Jesse Robertson. Her mother died when she was two and she was raised by family friends, Stella and Leonard Byerley. She came to Texas in her teens where she met and later married Scott Sloane, former businessman and mayor of La Feria. They were married fifty-two years. She was a homemaker, mother and member of First Baptist Church of Las Feria, where she was married in 1938. She served her church in many capacities through the years.
She was preceded in death by her husband, her parents, brothers Edward, Donald and William Robertson of Tennessee. Also half-sisters Beatrice Edington, Evelyn Cummings, Sammie Laurence and half-brothers Bob Robertson and Leon Robertson.
She is survived by her three children: Donna Sloane Winchester (Bud) of Glendale, AZ; Tom Sloane (Carole) of New Caney, TX; and Katy Sloane Boothe (John) of Yoakum, TX; five grandsons, eleven great-grandchildren, five great-great-grandchildren; and numerous nieces and nephews.
Grandsons Scott Winchester, Jason Boothe, Collin Boothe, Brian Sloane and Scott Sloane will serve as pallbearers. Great-grandchildren will serve as honorary pallbearers.
Visitation will be at Kingwood Funeral Home from 5-8 pm on Weds. Sept. 6, 2017. Graveside services will be at Restlawn Cemetery in La Feria on Saturday, Sept. 9, 2017 at 2:00 pm led by Jim Paul Gamble of First Baptist Church of La Feria.
In lieu of flowers the family requests that memorials be made to First Baptist Church of La Feria.