La Feria hit by extreme cold and ice
Updated: February 26, 2021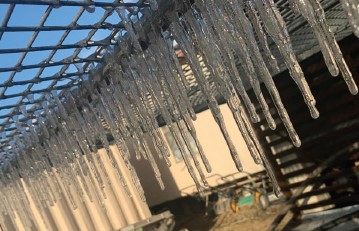 By Billy Watson
La Feria, along with the rest of the Rio Grande Valley and Texas, felt the fury of the winter storm over the past week.
Temperatures dipped below freezing with triggered power outages and water to be shut down. Outside of the Valley, San Antonio, Austin, and Dallas were blanketed with snow for days, which forced schools to close. Highways and roads were also closed because of the threat of black ice and unsafe road conditions.
According to AEP, up to 400,000 customers were without power, leaving many with power in the midst of a week-long cold front. The power outages left many without electricity — and in some cases, water — for multiple days.
No electrical power meant many other services were not available. No water or low water pressure. Gas stations could not pump gas. Internet and cell phone services were down.
AEP waited for days for ERCOT to give the OK for crews to begin restoration.
The Electric Reliability Council of Texas (ERCOT) manages the flow of electric power to more than 26 million Texas customers — representing about 90 percent of the state's electric load. As the independent system operator for the region, ERCOT schedules power on an electric grid that connects more than 46,500 miles of transmission lines and 680+ generation units. It also performs financial settlement for the competitive wholesale bulk-power market and administers retail switching for 8 million premises in competitive choice areas. ERCOT is a membership-based 501(c)(4) nonprofit corporation, governed by a board of directors and subject to oversight by the Public Utility Commission of Texas and the Texas Legislature. Its members include consumers, cooperatives, generators, power marketers, retail electric providers, investor-owned electric utilities, transmission and distribution providers and municipally owned electric utilities.