LFISD Graduate Awarded Scholarship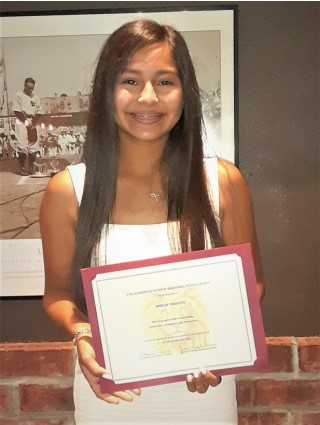 On Saturday, May 29, a luncheon was held at JC Wings Restaurant for a scholarship presentation. Ambur Frausto, La Feria High School 2021 graduate, and daughter of Joey Frausto and Mirna Martinez of La Feria, was awarded the Norberto Puente Memorial Scholarship.
Ambur will be attending UTRGV in the fall. Gloria Casas, representing the La Feria School Board, attended the luncheon as a guest speaker.
The Norberto Puente Memorial Scholarship was established by Norberto's sisters, Janie Puente Garcia and Tommie Puente Cavazos, in 2016. They wanted to honor their brother who was passionate about inspiring young adults to continue their education after high school.
The sisters have been able to raise funds to award 1-2 scholarships every year and hope to keep helping La Feria graduates as they continue their education.