George M. Burns
January 17, 1925-September 21, 2021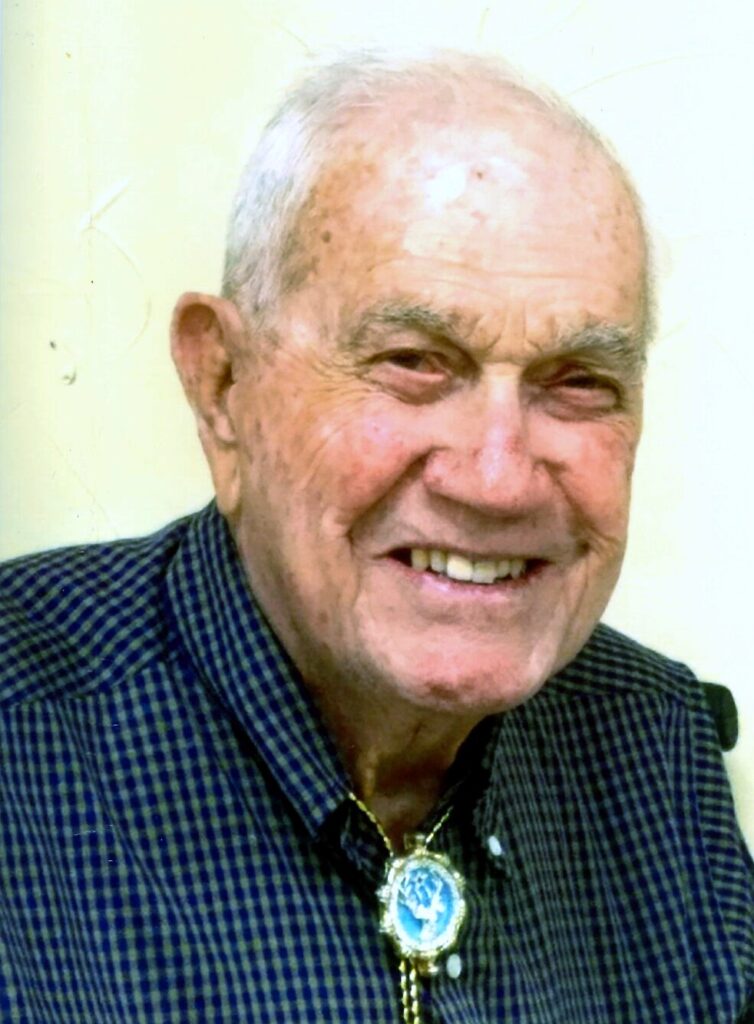 George M. Burns, 96, born January 17, 1925, went home to the Lord on Tuesday, September 21, 2021. George was preceded in death by his wife of 67 years, Norma Dawson Burns. He is survived by his children, Colleen Catlett (Gene) of Pt. Isabel and Bob Burns of Harlingen; grandchildren, Kevin Catlett (Tamara) of Kingsland; Kandis Hendricks (Carl) of Austin, Robby Burns, Christopher Burns of Ardmore, OK; and, 7 great-grandchildren.

George, the fifth of eight children, was born in Harlingen, Texas to the late Oyer and Nora Burns. He grew up in the surrounding area of Stuart Place and Primera. Growing up during the Great Depression era, he began working at an early age to help support the family. He married Norma K. Dawson on October 11, 1943 just before enlisting in the United States Navy to proudly serve his country during World War II. After the war, George and Norma settled back in Harlingen where they started their family.

After several types of employment, George ended up in the Oil Industry. First in transporting it, then as a dispatcher for transportation. In 1971, he moved to Houston where he became a District Manager of Transportation with Oxydental Petroleum for the Gulf District, which extended from Texas to the Florida Panhandle. He and Norma made their home in Houston for the next 18 years. After his retirement in 1989, they returned to La Feria.

George was an avid hunter and managed several leases over the years. He also enjoyed being the camp cook and always had something delicious on the grill. He and Norma hosted many weekend gatherings in their backyard around the grill. George was known affectionately by the family as "The Wagon Master". No matter what the occasion, he always managed to get everyone moving in the right direction. After retirement, George put his skills to work as a volunteer at the Harlingen Elks Lodge.

He will always be remembered as a dedicated and loving husband, father, grandfather, and great-grandfather.

The Burns family wishes to extend sincere thanks to Mrs. Alma Pimentel and her staff who cared for George for the last 5 years of his life. Also a heartfelt thank you to staff of Kindred Hospice for their compassionate care.

A graveside service will take place Saturday, September 25, 2021 at 11:00 a.m. at La Feria Cemetery. Following the graveside service, George will be laid to rest with full military honors.

Serving as honorary pallbearers are Bob Burns, Robby Burns, Gene Catlett, Kevin Catlett, Riley Catlett, and Carl Hendricks.

In lieu of flowers, please make memorial contributions to the Harlingen Elks Lodge #1889, 1426 S. Commerce St., Harlingen TX 78550 or the charity of your choice.

Funeral arrangements have been entrusted to Buck Ashcraft San Benito Funeral Home, 1400 W. Business 77, San Benito, TX 78586. www.sanbenitofuneralhome.com 956.361.9192