UTRGV Researchers Awarded Grant to Study Motor Recovery in Stroke Survivors
By Maria Gonzalez
RIO GRANDE VALLEY, TEXAS – June 2, 2022 – Dr. Michael R. Dobbs, professor, and chair of the Department of Neurology in the UTRGV School of Medicine, has been awarded a $443,963 grant to research the motor recovery, along with the brain and spine degeneration, of 30 stroke survivors over the next three years.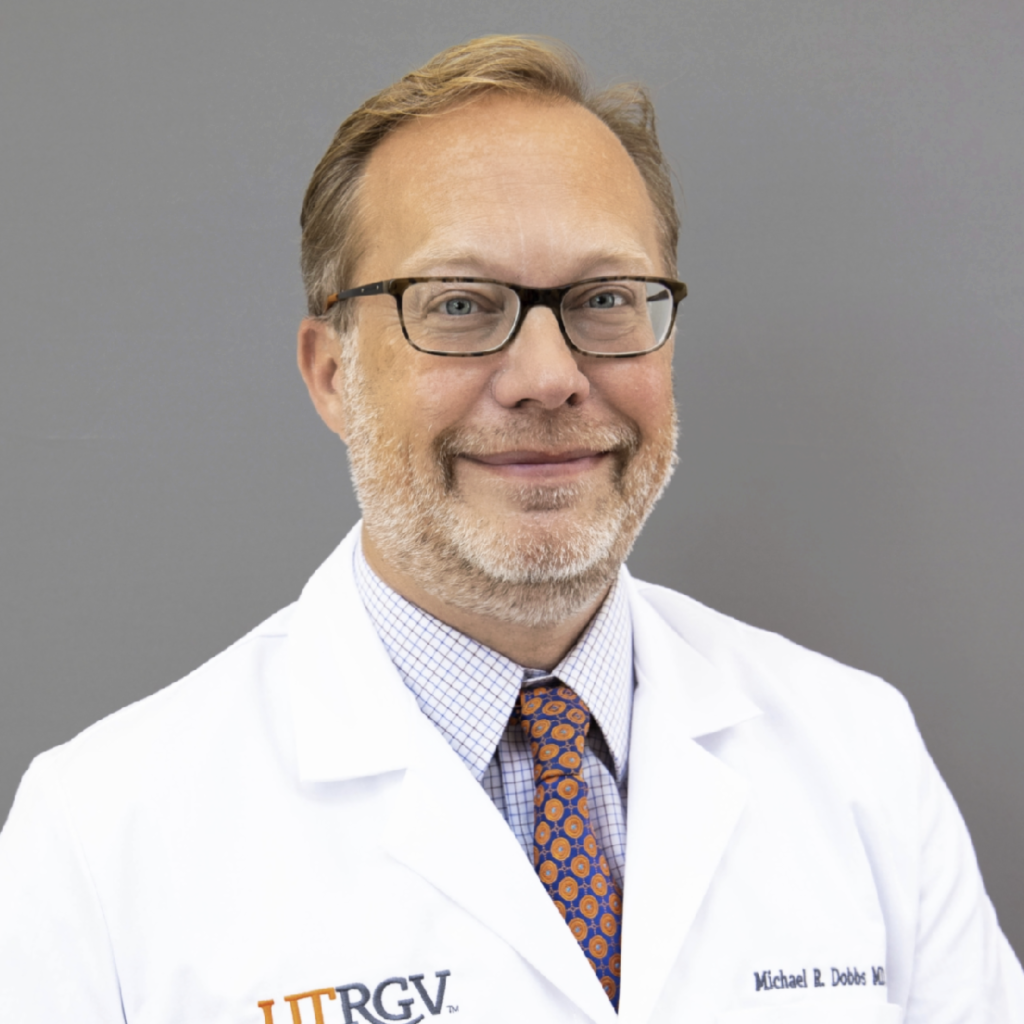 The grant was awarded by the National Institute of Neurological Disorders and Stroke (NINDS), which is part of the federal government's National Institutes of Health (NIH).

Dobbs said the R15 NIH grant will allow him to study whether degeneration after a stroke affects some areas of the brain more progressively than others and whether that degeneration extends to the level of the spinal cord.

"We want to determine how this degeneration impacts the ability to move the first three months after a stroke," Dobbs said.

The project, titled, "Role of Alternative Sensorimotor Pathway Degeneration in Motor Function of in Acute Stroke," will be led by principal investigator Dobbs, and co-PI Dr. Kelsey Baker, assistant professor in the Department of Neuroscience at the UTRGV School of Medicine.

Baker said it is estimated that, by 2030, an additional 3.4 million adults will experience a stroke.
"White Hispanic males are projected to experience the highest rates," she said, "In addition, preliminary estimates from our work suggest that stroke is a particular concern in South Texas and the Rio Grande Valley."

Dr. Thomas Spencer, associate vice president for UTRGV's Division of Research, said the division fully supports the work Dobbs and his research team are doing.

"Their search for advancements in the diagnosis and treatment of patients needing neurological care is important – and in many cases critical – not just to patients in the Valley, but around the world," he said.
This federal funding will provide the means to collect high-resolution and advanced neuroimaging protocols (MRI) through one of the first studies to capture neuronal pathway changes in the spinal cord in acute stroke. The study will be conducted at the newly established UTRGV Institute of Neuroscience in Harlingen.
NEUROLOGY AND NEUROSCIENCE TRAINING FOR THE NEXT GENERATION
NIH grant reviewers called the grant application "a highly translational application from an experienced clinician-scientist that could produce some intriguing new clinical science for stroke survivors, while creating an outstanding training opportunity for students at UTRGV…"

Dobbs said this Research Enhancement Award Program (REAP) project will provide a valuable opportunity for medical students to be exposed to hypothesis-driven research within the Valley. It also will enhance the UTRGV-NIH research portfolio and provide medical students and undergraduate students opportunities to be at the forefront of research data collection and presentation.

"Additionally, the work will lead to publications in scientific journals," Dobbs said, "and could lead to additional funded projects through other NIH mechanisms."
The grant lasts through March 31, 2025.