A Name You'll Remember
Lessons Learned at Legacy Institution Guided Life of Men's Soccer Alum Noe Hinojosa Jr.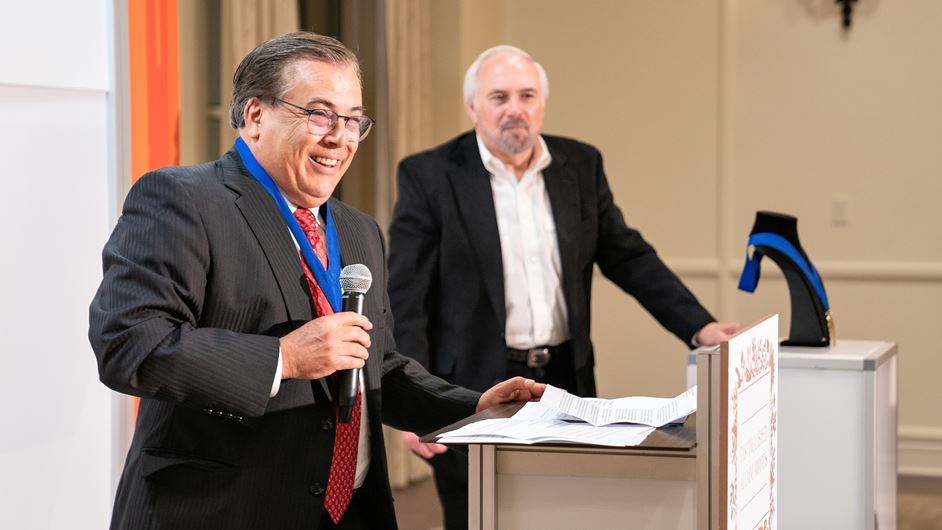 RIO GRANDE VALLEY – Noe Hinojosa Jr. lives by a "Triple E" mindset – education, empowerment, engagement.
Growing up in Matamoros, Tamaulipas, Mexico, the importance of getting a college education was stressed to Hinojosa every day. He moved to the United States and attended high school at Presbyterian Pan American School, a boarding school in Kingsville. He earned a Bachelor's of Business Administration in computer information systems from The University of Texas Rio Grande Valley's legacy institution Pan American University in 1984.

While at PAU, Hinojosa took every opportunity afforded to him to empower himself and those around him. He was a four-year starter on the men's soccer team, a team captain and the Student Body President.
The leadership and drive Hinojosa displayed in various roles allowed him to engage with his community, both on campus and off, and make a difference. For the mark he left on PAU and the various ways he has represented the university since graduating, Hinojosa was honored with the Distinguished Alumni Award in April.

"I'm flattered and I'm humbled to receive such an award," Hinojosa said. "I would've never done all I've done if not for Pan American University. I thank the south Texas leaders before us who believed and fought in the importance of having a four-year institution at our doorstep. I grew up believing I could come to this side of the border and have a better life, and I did."

Men's soccer played NCAA Division I contests as a major independent during Hinojosa's tenure. There was no recruitment in those days; Hinojosa said "you just showed up to the field and if you were good enough, you would be picked for the team."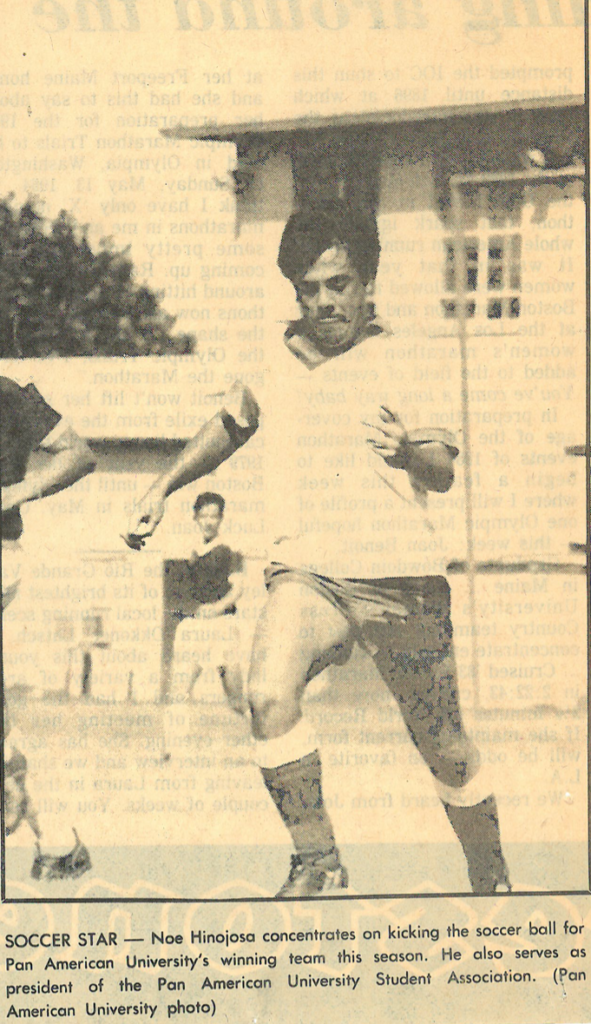 Hinojosa's senior season in 1983 was called "the best year ever for Pan American University soccer" by then-head coach Reggie Tredaway. The Broncs went 8-5-1 and Hinojosa, a fullback and team captain, was a defensive standout.

"It was fun. It was an incredible experience for me," Hinojosa said. "I learned leadership skills being on that soccer team. If you believe in what you're doing, if you can excel in sports, you can excel at so many other things in life."

His impact on the program went beyond the playing field. Now a highly successful investment banker, Hinojosa made one of his first deals with former PAU President Dr. Miguel Nevarez.

"We were not getting any kind of help from the university. I set up a meeting with President Nevarez. I said, 'I'm Noe Hinojosa and I've been playing for the soccer team for a couple of years now and I'd like to see if you could help us with about $12,000 so we can have travel money,'" Hinojosa recalled.

"We traveled in station wagons and we got peanut butter and jelly, ham sandwiches for road trips. I didn't think it was right, especially because that team was probably the most representative of the campus population. Ninety percent of us were Latinos. He said, 'Let me see what I can do,'" Hinojosa continued. "About a month or two later, Dr. Nevarez calls me up and says, 'We set up a $25,000 budget.' And I went, 'Yes!' We started traveling in a team bus that said Pan American University with a driver by the name of Lupe Garcia. We started feeling like we were representing the school."

Hinojosa joined student government in his later PAU years and became a leader on campus and beyond. He attended conferences in Washington, D.C. and New Orleans and participated in debates, leading to him being elected National Vice President of Student Governments.

He was also the treasurer for the Intercollegiate Knights fraternity. He grew the group's fundraising efforts by getting Tex-Mex bands, or grupos, to play at the Villarreal Convention Center. They used the money to donate to food pantries in various colonias across the Rio Grande Valley, giving those in need easier access to food.

In 1992, Hinojosa co-founded Estrada Hinojosa & Company, Inc., based in Dallas. He manages the firm's transactions and has led the company to 30 consecutive years of profits. His career successes drive him to give back. Two organizations he supports that are closest to his heart are Mi Escuelita Preschool, a non-profit organization catering to low-income families that helps young children get prepared for English-speaking kindergarten classrooms, and Forefront Living, a foundation for high-quality senior care.

Having the opportunity to get educated, empowered and engage while at PAU set the foundation for Hinojosa's life. Being a Bronc, playing soccer, getting involved with student government and experiencing life on both sides of the border taught him invaluable lessons about working hard and achieving big things – lessons he now uses to help others thrive through the "Triple E" mentality, too.

"People have put all kinds of barriers in front of me just because of who I am, because my name is Hinojosa. But if you're educated, you learn to run like water," Hinojosa said. "Water goes to the left, goes to the right. It finds a way around. That's what our young people need to know. We are like water. People will put up barriers, but you can still move."