Dr. Juliet V. Garcia to Receive The Presidential Medal of Freedom
RIO GRANDE VALLEY – JULY 1, 2022 – Dr. Juliet V. Garcia, former longtime president of The University of Texas at Brownsville, will be presented with the nation's highest civilian honor, The Presidential Medal of Freedom, on Thursday, July 7, in Washington D.C.

The Presidential Medal of Freedom is the Nation's highest civilian honor, presented to individuals who have made exemplary contributions to the prosperity, values, or security of the United States, world peace, or other significant societal, public or private endeavors.

"I've always believed that educating the next generation of citizens was our primary mission because once educated, they would help nurture, defend, and sustain the democracy of the United States. I believe that now more than ever," said Garcia.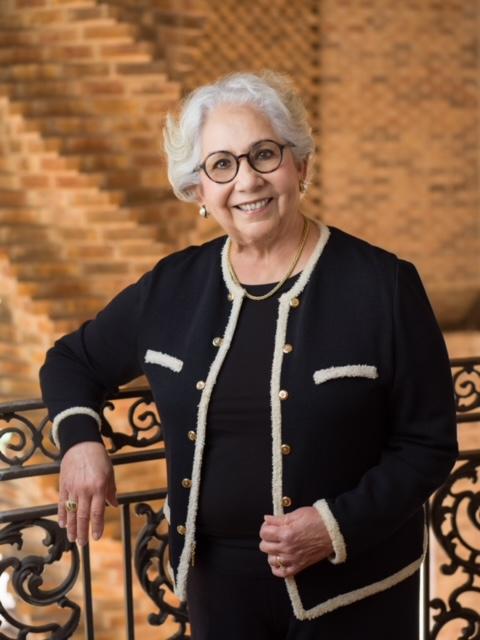 It's been a great privilege to spend a lifetime in advocacy working with hundreds of honorable and courageous people."

Garcia, a current UTRGV communications professor, and 16 distinguished Americans are the first to receive the honor under President Joe Biden's term. She joins an elite group of Presidential Medal of Freedom recipients that includes celebrities, politicians, and public servants.

Among the honorees are Denzel Washington, Simone Biles, Gabrielle Giffords, Megan Rapinoe, and others.

"Juliet has enriched the lives of many Rio Grande Valley students, from elementary to college," said UTRGV President Guy Bailey. "Her contributions to higher education in South Texas and beyond are long lasting and have created pathways of success among a new generation of Latino leaders. On behalf of everyone at UTRGV, I congratulate Juliet on this well-deserved national award."
ABOUT DR. JULIET V. GARCIA
She was the first Mexican-American woman to serve as a college president in the United States. During her tenure as president, Garcia pioneered a partnership between UT Brownsville and Texas Southmost College, a community college where she served as president from 1986 to 1992, when she assumed the presidency of UTRGV's legacy institution UT Brownsville. She stepped down as UTB president in 2014 when UTRGV was established.

"My job was always to thrust open doors of opportunity for students to learn, compete, and succeed in the classics, chess, physics, or the performing arts. We did this by building a campus that unapologetically honors our cultural and environmental heritage, and then by filling it up with brilliant faculty and dedicated staff," said Garcia.

Serving as a foremost anchor institution in our region meant that we were committed to convening people across political and geographic boundaries to engage in difficult dialogues to tackle the complex issues of finding ways to maximize the full potential of our human capital, develop sustainable communities to propel economic growth and advocate for the unique issues of our nation's borderlands."
The recipient of numerous awards, TIME magazine named Garcia one of the top 10 college presidents in the nation in 2009 and she was named one of the top 50 world leaders by Fortune magazine. In 2008, García was selected to join President-elect Barack Obama's transition team.

Garcia, a Brownsville, Texas native, received her Ph.D. in communication and linguistics from The University of Texas at Austin and her M.A. and B.A. in speech and English from the University of Houston.
"Juliet Villarreal Garcia personifies the American dream. As the first Mexican-American woman to lead a U.S. college or university, Dr. Garcia has been the inspirational force behind countless individuals who made public service their life's work and students who realized their academic potential," said UT System Chancellor James B. Milliken. "I am proud to call her one of our own – as a distinguished alumna of The University of Texas at Austin and President of UT Brownsville – and I congratulate Dr. Garcia on this prestigious and well-deserved honor."