Young Local Youtuber & Comedian Competes in National Mullet Competition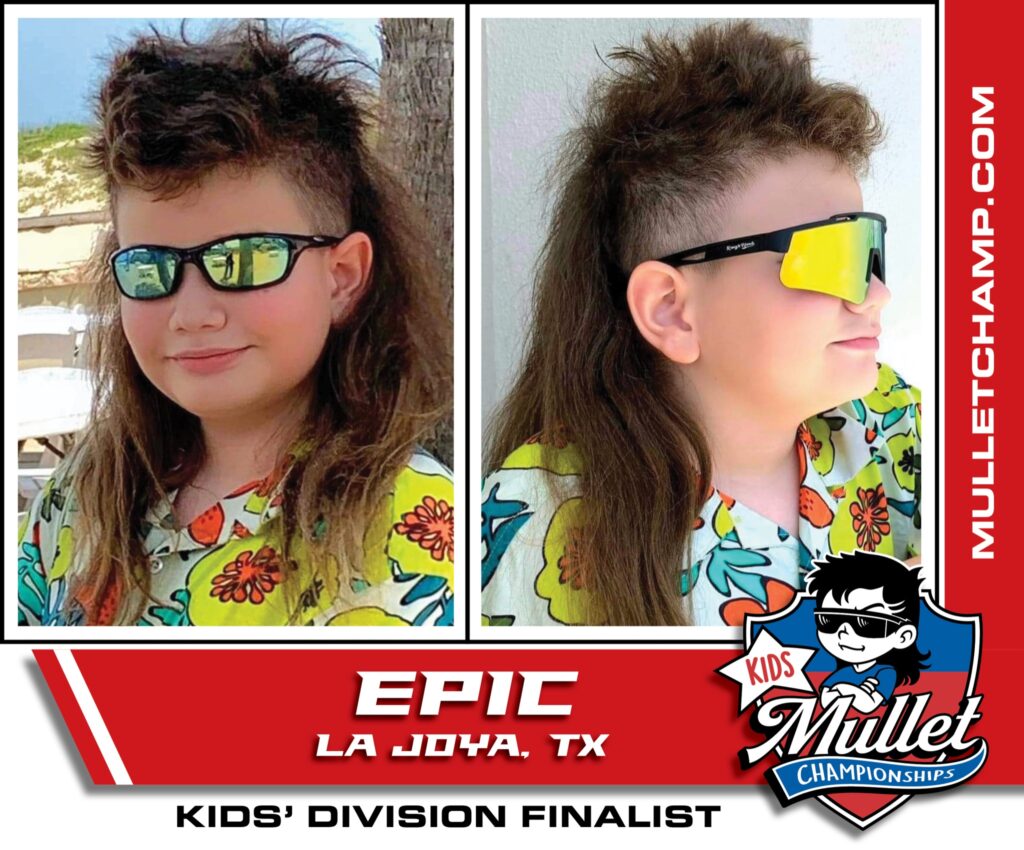 Emilio Flores
La Feria News
Rio Grande Valley — Epic Orta is a kid from La Joya Texas who is representing the Rio Grande Valley in the Kids National Mullet Competition put on by USA Mullet Championships. Recently, Epic Orta has been taking over the news being on Foxnews, the Fox morning show,and CBS, along with local coverage from KRGV, the Monitor.
Epic Orta is from La Joya, Texas, at the very start of the competition Orta was placed second in the nation. By the third day, being neck and neck with Emmit Bailey, Epic held 3,665 votes in his name! It quickly took off with 6,332 votes by the fourth day. It seemed as though he was gonna be taking first; being the only contestant to represent the Valley! Having so many people from the RGV and other states supporting him. This of course took over the news and media, even putting him on the front page of the Monitor.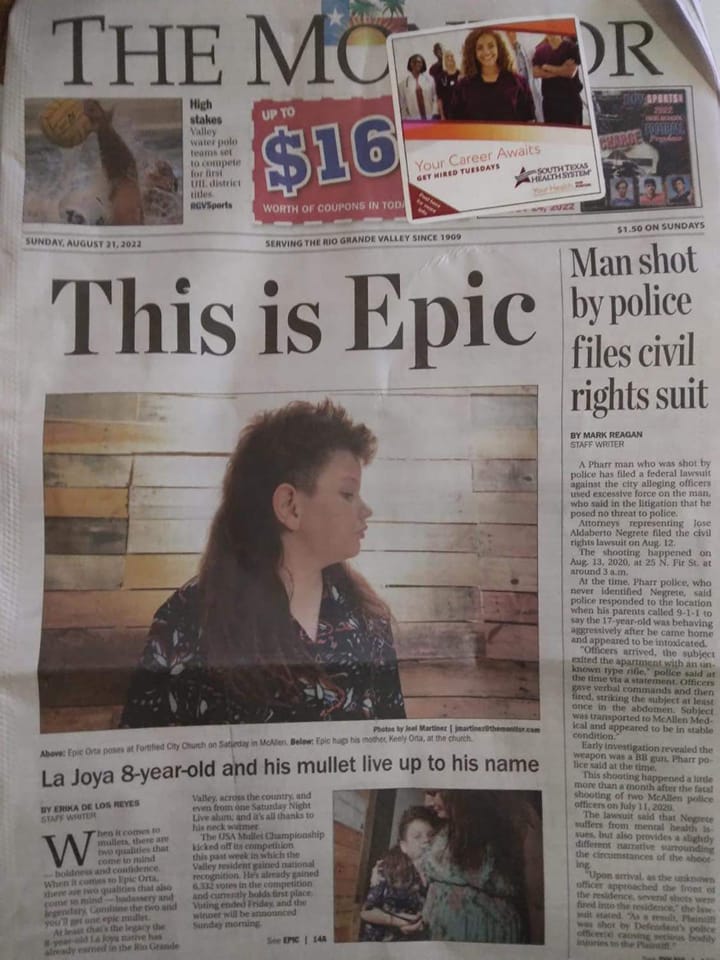 On August 21st, 2022, the results had been final, and Orta finished in second place with 8,404 votes. The battle was fought long and hard, and in the end, he came out acting like a "true Texas Gentleman" Mrs. Orta says.
The story doesn't end there. Many of Epic's supporters were very moved by his sportsmanlike attitude and wanted to do something special.
Monty Awbrey and Diana Awbrey from Longhorn Services in Mission were very moved by Epic's reaction to receiving second place, that they made a phone call and made sure Epic got a trophy and plaque. Mrs. Orta posted on Monday:
"Guuuuys!!! Monty Awbrey and Diana Canales Awbrey from Longhorn Services watched the live video of Epic's reaction to getting second place in the National Mullet Championship and were so moved by Epic's sportsmanship that he called E Awards and Gifts (who had also seen Epic's reaction) and they went in on their day off to make Epic a trophy and plaque! I'm fixing to upload the video of Epic's reaction cause omgoodness! Thank you guys so much for making him so happy!!!"
But wait, there's more! A local resort that works closely with Epic's Father, Mr. Orta, felt as though Epic deserved the first place win. So, the Isla Grand Beach Resort awarded him the $2,500 prize money on top of the $500 from winning second place. Epic was beyond surprised and gave Mr. Daniel Salazar a huge hug. Video linked below.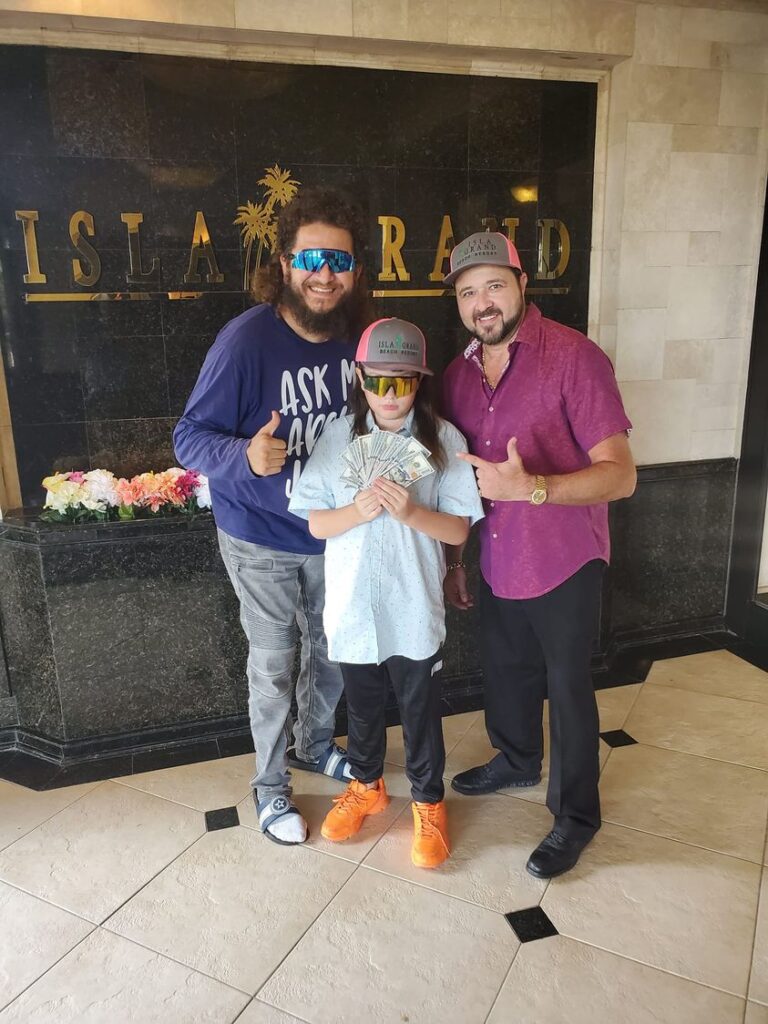 Both of Epic's parents have been so proud of him, Mr. Orta comments on one of updated USA Mullet Championships ranking posts saying, "BEHOLD MY SON WHOM I LOVE AND AM WELL PLEASED WITH ! Epic Orta lives up to his name. I gave him that name because i knew he was destined for awesomeness . Love you son. You're such a treasure to me. HALLELUYAH ❤️"
Mrs. Keely Orta shared on Facebook on Monday:
"Right now we just received a call that the Texas House Representatives want to make a resolution for Epic and do a presentation and this huge thing and it made me ugly cry … i wish I could send a message back in time 7 years ago to myself when that neurologist diagnosed Epic with moderate to severe autism and possible mental retardation and it BROKE ME and let me know that it was going to be more than ok… so I'm sending this message out there to all the parents who have children with special needs… it's going to be OK Mama… don't let those diagnosis limit your children… it's not their identity or destiny ❤"
Lastly, Epic had a few words for one of his supporters:
You can also Subscribe to Epic's Youtube Channel Epic Toys where he reviews some of his favorite Bakugan's!
Video of Epic Orta receiving $2,500 from Isla Grand Beach Resort for his great job representing the Valley: https://fb.watch/f4XzxWVHUO