UTRGV event launches AgDiscovery Program
Goal is to inspire future careers in agriculture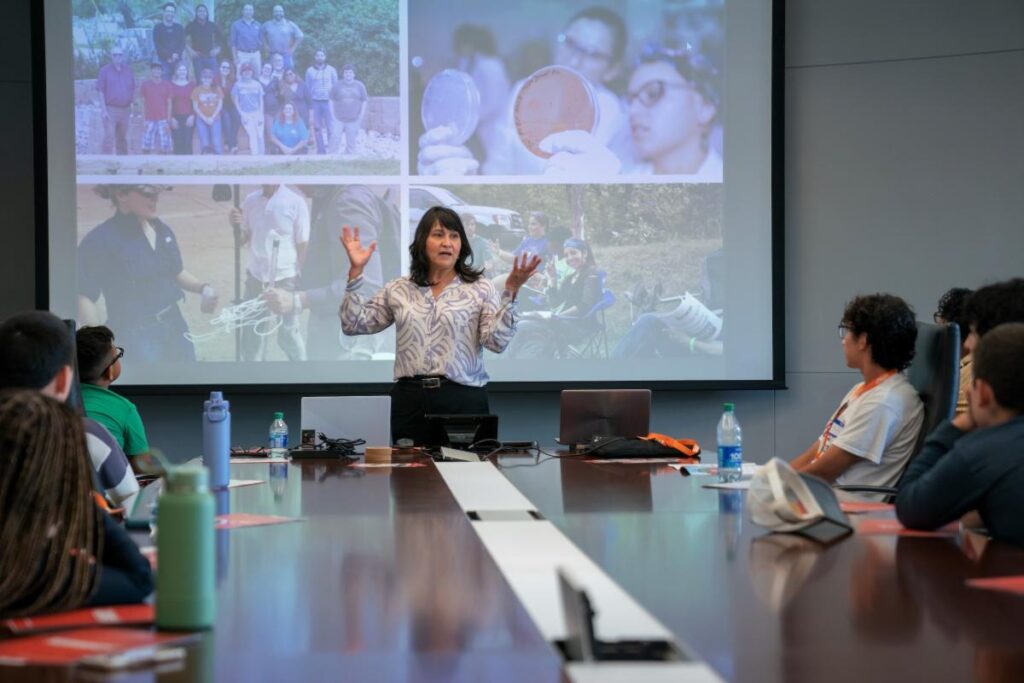 By María González
RIO GRANDE VALLEY, TEXAS – JUNE 13, 2023 – UTRGV held a special event June 11 to kick off its new AgDiscovery Program, in which 12 area high school students will engage in hands-on learning workshops, behind-the-scenes tours, laboratory and field exercises, and a variety of character- and team-building activities.

The event marked the beginning of the free summer outreach program and introduced the students to the potential of careers in plant and soil sciences, food inspection and distribution, natural resources and wildlife biology.

Family, faculty and students gathered on the UTRGV Edinburg Campus at the Science Deans Conference Room to celebrate the enrollment of the students, grades 9 to 11, in the two-week summer program.
The ceremony was hosted by the UTRGV School of Earth, Environmental, and Marine Sciences (SEEMS) and initiated the students' educational journey in plant health and agricultural sciences.

Dr. Robin Choudhury, co-PI and SEEMS assistant professor, emphasized the program's goal to inspire students to pursue careers in plant and soil sciences.

"Agricultural careers extend far beyond working in fields and encompass scientists, researchers, extension agents, and many others who sustain our food security," he said.

Special guests at the event were Sherron Jernigan, director of the Office of Civil Rights Diversity and Inclusion at the USDA Animal Plant Health Inspection Service (APHIS), and Dr. Emitria Henderson, ORCDI management analyst.

Jernigan encouraged students to consider the future of agriculture and natural science.

"My hope for the future is that these students make the decision to major in agriculture," she said.
"During thus two-week course, students will be exposed to current ag research, which will help them think in an environmentally friendly way to preserve our environment and address global warming."

Dr. Christopher Gabler, principal investigator on the project and UTRGV associate professor of Plant Ecology & Sustainability, said the Ag Discovery Program will serve as a bridge for students to experience the profession and pave the way for future agricultural careers.

He highlighted the ambitious programming, which will expose the students to the range of possibilities in agriculture, natural resources and food science.

"The students will go and meet professionals in the field firsthand. They will meet people doing research in soil labs, private farms, wildlife refuges, public labs and federal labs," Gabler said.

During those visits, students actively will participate in research projects and gather data for their own research, culminating in developing research posters to be presented at the closing ceremony.

Taylor Camacho, a junior at PSJA Memorial Early College High School, said she is excited to be participating in the program, which will provide her with opportunities for the future.

"I see myself receiving my graduate degree in plant pathology and, hopefully, having a job in the field of agriculture," she said. "The AgDiscovery program will help me develop skills such as in plant physiology, and citrus disease control."

UTRGV is one of 21 universities across the nation participating in AgDiscovery. The program is sponsored by the Animal and Plant Health Inspection Service (APHIS), a U.S. Department of Agriculture division.
UTRGV AgDiscovery 2023 is scheduled from June 11 to June 23.

For more information, contact Gabler at [email protected].