Los Alamos National Lab Reps Visit UTRGV To Help Build Opportunities For Students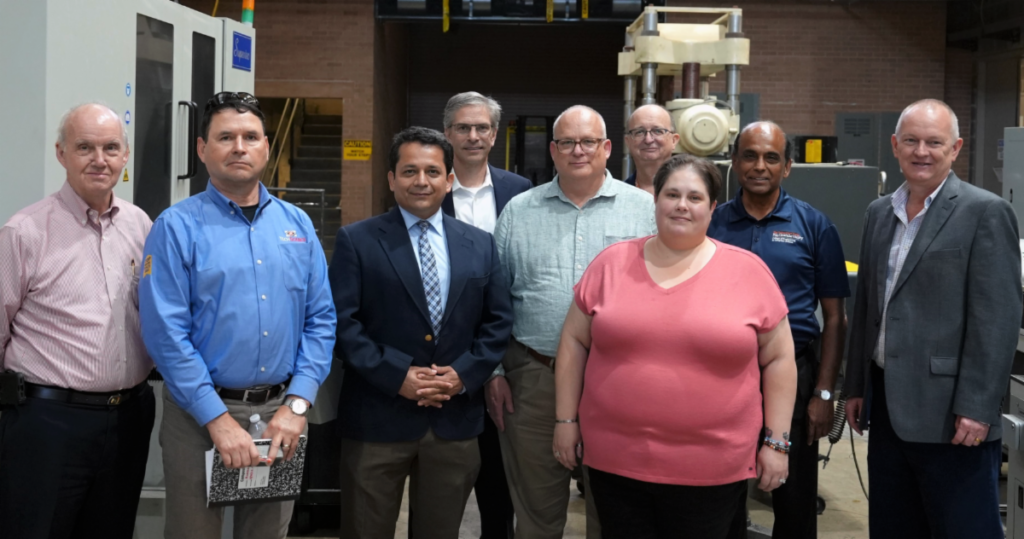 By María González
RIO GRANDE VALLEY, TEXAS – JULY 21, 2023 – A team of representatives from the Los Alamos National Laboratory (LANL) visited UTRGV July 13 in a goodwill mission designed to open up opportunities for students.

The visit, organized by Dr. Hiram Moya, UTRGV associate professor of Manufacturing and Industrial Engineering, College of Engineering and Computer Science, was designed to help increase the pipeline for research opportunities and workforce development initiatives, and to provide internship opportunities for UTRGV students.

During the visit, Moya emphasized the significance of UTRGV's engineering program, underscoring its potential to support LANL's activities, such as the manufacturing and production of facilities for national security-sensitive items.

"Los Alamos National Laboratory requires a significant number of engineers to carry out its mission effectively," he said. "Our objective is to provide UTRGV students with opportunities and expose them to potential career options at LANL."

Moya said collaboration between LANL and UTRGV would be mutually beneficial, as it would directly support LANL.

"Not only would we prepare UTRGV engineers to work for the national lab, but it would also foster the development of our university as a trusted partner capable of conducting research to support LANL's primary mission – providing scientific and engineering capabilities for our national security programs."

Dr. Robert Putnam, chief production scientist and director of the LANL Technical Applications Office, emphasized the mutual interest in collaboration as it will directly connect LANL with the next generation of engineers.

"We have an ongoing national security mission that is not going away, and we need to fulfill those obligations," he said. "UTRGV's objective of educating students and helping them secure jobs aligns well with our mission. And we at LANL can contribute to UTRGV's objectives by providing job opportunities in the technological areas we seek. It's a win-win situation."

Dr. Thomas B. Spencer, associate vice president of Research Operations at UTRGV, said the visit would be transformative in paving the way for a mutually beneficial partnership.

"The potential for a partnership with LANL has the power to transform our university's research enterprise and create exceptional opportunities for workforce development," Spencer said. "Through collaboration with LANL, we can amplify our research capabilities and provide our students with access to real-world projects, industry mentorship and potential employment opportunities."
The LANL representatives included:
Dr. Robert Putnam, chief production scientist and director of the Technical Applications Office
Kayla Martinez, operations support specialist, Technical Applications Office
Dan Upp, deputy division leader, Pit Technologies
Michael Mallett, quality engineer, plutonium product quality engineering and inspection
Bill McKerley, TechSource, subject-matter expert
Marvin Nials, TechSource, project manager

LANL representatives also were given a tour of UTRGV's manufacturing engineering laboratories and the university's cutting-edge research facilities and infrastructure available to the students and faculty.