TEAM APPROACH HELPS PATIENTS LOSE WEIGHT AT VALLEY BAPTIST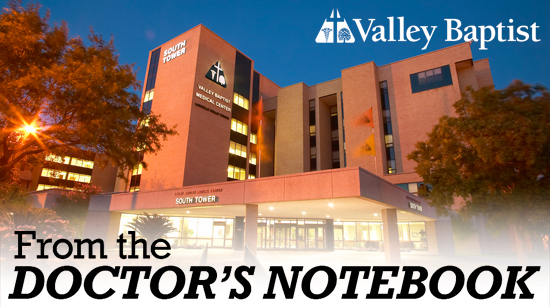 HARLINGEN – With both obesity and diabetes at epidemic portions in the Valley, weight-loss surgery at Valley Baptist Medical Center in Harlingen has in many cases had the double effect of reversing or stopping diabetes. Valley Baptist's Surgical & Medical Weight Loss Program promotes a healthy lifestyle of diet and physical activity which are key elements in preventing diabetes, controlling it, and even returning blood sugar levels to normal in some cases.
A key part of the Surgical & Medical Weight Loss Program at Valley Baptist is medical weight management. Each patient is taught what a healthy lifestyle "looks like", and how to integrate it into his or her life. A recent patient, Celeste Ramirez, lost 18 pounds before she even had bariatric surgery, which was performed by Dr. Ashraf Hilmy at Valley Baptist.
Prior to her surgery, Ms. Ramirez, age 59, met with Dr. Julio Savinon, Internal Medicine and Certified Metabolic & Bariatric Medicine physician, who worked with the program's bariatric dietitian to educate the patient on healthy eating choices, portion control and physical activity. Implementing these lifestyle changes prior to surgery helped increase Ms. Ramirez's metabolism, which promoted quicker weight loss results after surgery.
Dr. Savinon noted that helping a patient lose weight is a comprehensive, multi-disciplinary team effort at Valley Baptist, which also involves a dietitian, as well as a nurse, Dawn Rodriguez, RN, BSN, who serves as Program Director for Valley Baptist's Surgical & Medical Weight Loss Program.
Ms. Rodriguez herself went through a powerful transformation after undergoing gastric bypass surgery at Valley Baptist in 2006 — and uses her own experiences to help personally guide patients through the whole process, from pre-surgery requirements, registration, surgery, lifestyle changes, and free support groups offered by Valley Baptist.
Ms. Rodriguez said Valley Baptist's inter-disciplinary team has become very advanced and efficient with providing high quality patient care for bariatric surgery, from the time patients attend an information seminar to post-operative continuous care. "Our multi-disciplinary team works closely together to provide exceptional care that is individualized to the patient's specific needs," Ms. Rodriguez said.
Ms. Rodriguez expects that many more bariatric patients at Valley Baptist will be able to go home the same day as their surgery, as Ms. Ramirez recently did. "Our goal is to have the patient feeling well enough that they can go home the same day," Ms. Rodriguez added.
For more information on weight-loss medical and surgery options, contact your physician and Dawn Rodriguez, RN, BSN, at (956) 389-6896.