Three Students Hospitalized After Surviving Fatal Accident
District Mobilizes Crisis Team to Support Students and Staff
by Mary Beth Wright, LFN Editor
Three La Feria High School students were transported to the Christus Spohn Hospital in Corpus Christi by HALO flight and ambulance after a tragic vehicle accident that took the life of school volunteer Jerry Roy Steinbach Wednesday, March 20 around 3:40 p.m. near Robstown. The young men sustained non-life threatening chest and abdominal injuries from the seatbelts that saved their lives and one may have a fractured arm.
The accident occurred when Steinbach, 68, was driving a Chevrolet Tahoe north on U.S. 77 and collided with the back of an 18-wheeler according to the Department of Public Safety. Steinbach was driving the three teenagers to a culinary arts competition in Waco. Steinbach's wife, Karen, head of the La Feria High School culinary arts program, was in another car with other students when the accident occurred. They were not involved in the accident.
"As soon as we heard about the accident, we immediately sent our Action Team, made up of High School Principal Robert Munoz and Vocational Supervisor Veronica Torres, to the scene of the accident," informed LFISD Superintendent Robert Rivera. He said the team was dispatched to bring Mrs. Steinbach and the three students that were riding with her safely home.
He added the team visited the three hospitalized students finding them alert and talking. The young men were kept overnight in the hospital and other district staff members were driving up to Corpus Thursday morning to assist the students.
A crisis team has been organized at the high school to assist students and staff members that may need counseling or just want to talk. All 13 of the district counselors were dispatched to the high school campus along with administrative staff according to Superintendent Rivera.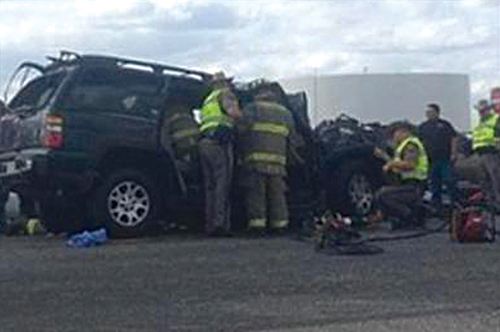 "We will help them through the day to allow for as normal a day as possible and our staff will keep close tabs on Mrs. Steinbach as she deals with this tragedy.
Investigation continues into the cause of the collision by Texas DPS officers. The La Feria News will continue to cover this story. Updates on services for Mr. Steinbach and the students' medical conditions will be posted on our website www.laferianews.net and our facebook page.