Is There a Credit Union in Your Future?
A Visit with Harlingen Area Teachers Credit Union
Credit unions have been a part of the financial scene since their inception in 1852 in Germany. For many, they are the trusted alternative to traditional banking for handling their money. But–How do they fit into the complex banking world?
To find out, La Feria News met with Vanessa Serna, Marketing Director for the Harlingen Area Teachers Credit Union. It was quite an education.
Serna pointed out how their business differs from other financial institutions. She explained that credit unions differ from banks and other financial institutions in that the members who have accounts are the owners of the credit union. And they elect their own board of directors in a democratic one-person-one-vote system regardless of the amount of money invested in their particular institution.
"Generally speaking," she said, "credit unions see themselves as "people helping people"; they feel that they are community-oriented, and serve people, not profit." For example, we have a Kids' Savings Account which a child can open in his name with a $6.00 deposit–We love kids!"
Credit unions offer many of the same financial services as banks–services that include savings accounts, checking accounts, credit cards, certificates of deposit and online banking, even safety deposit boxes to name a few. "We endeavor to promote thrift and provide credit for cars and homes at competitive rates and many other financial services."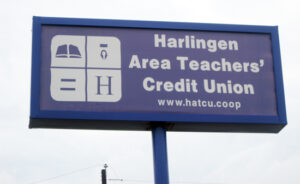 Many are not aware that money deposited in a United States credit union is Federally-insured by a government agency. Serna told La Feria News that an agency known as the National Credit Union Administration (NCUA), guarantees individual accounts up to $250,000. There is even a global presence known as the World Council of Credit Unions (overseeing 52,945 credit unions in 100 countries around the world.
"Probably what sets us apart even more, are the numerous community-oriented projects we support," she added. "Most members of the HATCU live within 10 miles of our offices in Harlingen and San Benito. HATCU established and still hosts many community service projects, such as: Pretty at Prom, Sole Train, and Gift for Teens, and some 15 deserving, local organizations within our field of membership," she listed.
Vanessa is a Valley native who graduated from the Harlingen High School class of 2001.
"Couldn't be happier with my choice of my career in the credit union industry," she said as we concluded our visit with Vanessa Cruz, Marketing Director of the Harlingen Area Teachers Credit Union.
Oh, Yes. HATCU is not just for teachers anymore. Check with Vanessa Serna at 423 5792 ext. 4310. Could there be a Credit Union in your future?