Free Diabetes Walk, Screenings to be Held in Valley Saturday, Nov. 8
Updated: October 31, 2014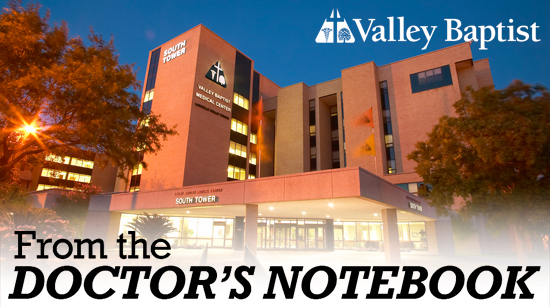 HARLINGEN – A free "Walk in the Park" Diabetes Walk will be held on Saturday, Nov. 8 at 8 a.m. at McKelvey Park, 1325 S. 77 Sunshine Strip, in Harlingen. Free blood sugar testing, along with registration, will begin at 7 a.m. that morning.
Speaker at the event will be Dr. Alfredo Garcia, Endocrinologist. Participants can choose to walk one, two, or three miles. T-shirts will be given to the first 400 registered walkers (including children). Walkers will also receive a free hemoglobin A1c test for diabetes from the Valley Baptist Community Reference Lab. In addition, there will be free foot screenings by Valley Baptist Wound care; healthy snacks; and face painting.
In addition, participants at the event can ask questions to a doctor with the Valley Baptist Family Practice Residency Program, ask a pharmacist about medications, and / or talk with a dietitian from Aramark Healthcare about healthy eating. There will also be screenings and /or health information available from the Valley Baptist Surgical and Medical Weight Loss Program; the Valley Baptist Stroke Program, Valley Baptist Cardiovascular Care, the Valley Baptist Fitness Center, the High School for Medical Technologies, Texas State Technical College, and Sam's Club (hearing screening).
Sample foods and information will be available at several booths at the event, including from Chick-fil-A; Clean Eating Kitchen; I Cook, You Eat; Jason's Deli; MediForce; Salud y Vida; Walgreens Pharmacy; and Yogurt Divas.
The walk, which is sponsored by the Valley Baptist Diabetes Center, the Valley Baptist Surgical and Medical Weight Loss Program, and the American Diabetes Association, is being held as part of National Diabetes Month, to raise awareness of the impact of diabetes in the Rio Grande Valley. One in four persons in the Valley has diabetes — and many do not even know they have it.
To register for the upcoming diabetes walk, please call 1-888-902-5433 (LIFE). Registration will also be available on site the morning of the event. For more information on diabetes and diabetes management, contact your physician and the Valley Baptist Diabetes Center, at (956) 389-1119.