FREE DIABETES WALK, SCREENING TO BE HELD IN VALLEY SATURDAY, NOV. 8
Updated: November 7, 2014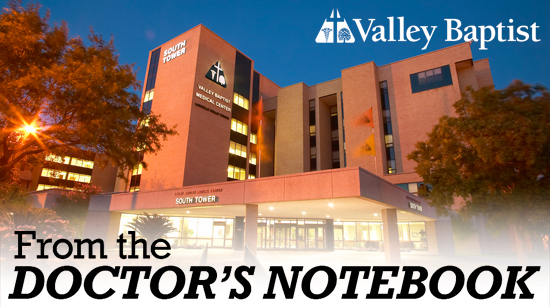 HARLINGEN – A free "Walk in the Park" Diabetes Walk will be held on Saturday, Nov. 8 at 8 a.m. at McKelvey Park, 1325 S. 77 Sunshine Strip, in Harlingen. Free blood sugar testing, along with registration, will begin at 7 a.m. that morning.
T-shirts will be given to the first 400 registered walkers (including children). Walkers will also receive a free hemoglobin A1c test for diabetes from the Valley Baptist Community Reference Lab. In addition, there will be free foot screenings by Valley Baptist Wound care; healthy snacks; and face painting.
"We would like to invite the community to join us in a visible demonstration of how the Valley can overcome diabetes and obesity during the Valley Baptist Diabetes Center's annual 'Walk in the Park' event," said Teri Retana, Asst. Vice President for Marketing & Communications for Valley Baptist.
"This is an opportunity for the whole family to enjoy a beautiful morning of fresh air and fun, exercise together, receive important health screenings for no charge – including a simple, five-second blood sugar tests for diabetes – and to get their questions about diabetes answered."
"We would also like to thank supporters of this important event from the community, including the Harlingen Consolidated Independent School District, the South Texas Independent School District, Texas State Technical College, Culligan Water, Walgreens, and the Marine Military Academy," Ms. Retana added.
Valley Baptist opened a Diabetes Center, certified by the American Diabetes Association, in 1982 at Valley Baptist in Harlingen. A similar program in Brownsville, at Valley Baptist-Brownsville, began in 1996. In addition to classes in managing diabetes, the Valley Baptist Diabetes Program offers free support groups for the community.
For more information on diabetes and diabetes management, contact your physician and the Valley Baptist Diabetes Center, at (956) 389-1119. To register for the upcoming diabetes walk, please call 1-888-902-5433 (LIFE). Registration will also be available on site the morning of the event.