NEONATAL MEMORIAL SERVICES TO BE HELD IN HARLINGEN & BROWNSVILLE
Updated: October 10, 2014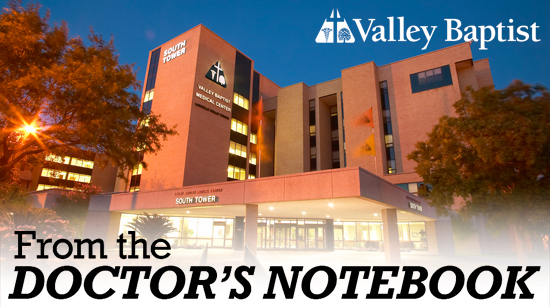 HARLINGEN – Valley Baptist Health System extends an invitation to a memorial service to parents who are experiencing loss of a child through miscarriage, stillbirth or newborn death. Special memorial services will be held in Harlingen on Wednesday evening, Oct. 15, at 6 p.m. at Valley Baptist Medical Center-Harlingen, on the first floor of the hospital (main South Tower entrance, in the Woodward Conference Center); and in Brownsville on Wed., Oct. 22 at 6 p.m. at Valley Baptist-Brownsville (in the chapel in the Administration Building, behind the main hospital building on Central Blvd., at 1040 W. Jefferson St.)
Chaplain Joe Jaime of Valley Baptist-Harlingen said the theme of the memorial service will be "Precious life … so quickly lost … but never forgotten."
The service will include a special "flower ceremony", in which parents and other family members will be invited to come forward to place white flowers on a heart-shaped wreath in remembrance of the child they lost. Assisting parents during this emotional moment will be Judi DeHart, RN, a Valley Baptist-Harlingen case manager who helps provide emotional support to parents who have lost a baby; Rita Goodarzi, RN, Nurse Manager for the Newborn Intensive Care Unit at Valley Baptist; and hospital volunteers, who will also present a gift token to each parent in remembrance of their child.
Following this ceremony, the service will move outside to the lawn of Valley Baptist, where parents and brothers and sisters of deceased babies will release butterflies in memory of their loved one who passed away.
The service will be ecumenical, and members of all faith communities are welcome to attend. The service will also include the reading of a poem, "A Walk to Remember," in memory of the deceased (in English and Spanish); Scripture readings; prayers; reflections by Dr. Dorila Mauney, Pediatrician; and music by certified nurse midwives Helene Dixon, who will play the violin, and McLain Mallory, who will play the harp.
For more information or to RSVP for the memorial service — please contact the Valley Baptist Pastoral Services Department at (956) 389-1194, or e-mail [email protected].