Stroke Support Group in Valley Provides Education, Outreach for "Brain Attack" Survivors, Family Members
Updated: November 14, 2014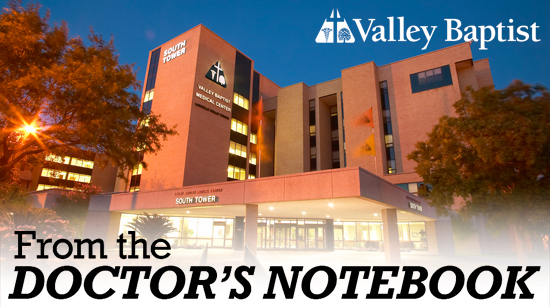 HARLINGEN – A Stroke Support Group which meets monthly in Harlingen provides education and support to Valley stroke patients, family members and care givers. Meetings are free and open to the public.
The H.O.P.E. (Haven Offering Patient Encouragement) Stroke Support Group meets on the third Tuesday of the month at 6 p.m. at Valley Baptist Medical Center in Harlingen (on the first floor of the South Tower of the hospital, in the Woodward Conference Center). The next meetings will be held on Tuesday, Nov. 18 (with a video and discussion about incontinence, which can occur following a stroke) and Tuesday, Dec. 16 (when the group will hold its fourth annual Christmas party, featuring Valley saxophone player Keith DiSantis, along with tamales and holiday cookies).
The meetings give stroke survivors and family members a chance to meet specialized health care professionals and ask questions. For example, during the last meeting, Dr. Jairo Rodriguez, a pulmonologist, discussed sleep disorders — which can be both a risk factor for stroke and an after-effect following a stroke.
Stroke Support Group meetings also feature door-prize drawings, refreshments, and often other fun activities.
Stroke is a type of cardiovascular disease which affects the arteries leading to the brain and the arteries within the brain. A stroke occurs when a blood vessel that carries oxygen and nutrients to the brain is either blocked by a clot or bursts. When that happens, part of the brain cannot get the blood (and oxygen) it needs, and that part of the brain starts to die.
Dr. Victoria A. Parada, Board-Certified Vascular Neurologist and Clinical Director of Neurosciences and the Stroke Program at Valley Baptist Medical Center-Harlingen, said it's critical for Valley residents to learn the warning signs of stroke — and to call 911 immediately if they or their loved one experiences symptoms.
For more information about prevention and treatment for stroke, consult your physician and visit www.ValleyBaptist.net. For more information about the Stroke Support Group, call 1-888-902-5433, or contact Debbie Diehl at [email protected] and visit www.facebook.com/groups/HOPE.StrokeSupportGroup