John Joseph Catalina
February 5, 1922 – March 22, 2015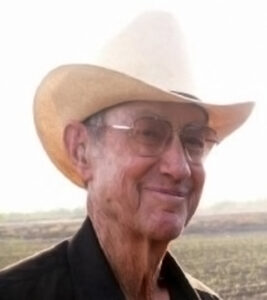 John Joseph Catalina, 93, died Sunday, March 22, 2015 at an Abilene Regional Medical Center.
The son of Lena (Ropollo) and James William Catalina, John was born on February 5, 1922 in High Bank, Texas. Following graduation from high school, he served in the U.S. Navy from which he received a medical discharge. In 1942 he married Mary Ester Moore in Yuma, Arizona. In January of this year, John and Mary celebrated 73 wonderful years of marriage.
John worked in the Rio Grande Valley for the U.S Postal Service delivering mail and in the post office for many years, retiring in 1984.
During his career with the USPS, he also enjoyed working in the citrus fruit business in the Rio Grande Valley. John and Mary were well-known for their sweet tasting grapefruit, oranges, ponderosa lemons and avocados. John shipped many boxes of fruits and avocados to his family in Abilene where the freshly picked items were enjoyed by many friends.
After moving to Abilene in August of 2007, Mr. Catalina was a member of University Church of Christ. He did volunteer work with his son, David, preparing items for shipping supplies to Third World Countries for missionary endeavors.
He was preceded in death by his parents; sister, Viola Musia; and brother, Bill Catalina.
John is survived by his wife, Mary Catalina of Abilene; son, David Catalina and wife Marilyn of Abilene; brother, Milton Catalina and wife Beverly of Bryan, Texas; sister-in-law, Lola Pinson of Weslaco, Texas; nephew, James Catalina of Houston; niece, JoAnn Smith of Garland, Texas; four grandchildren, Stacy Christopher, Missy Hair, Julie McDonald and Lindy Bauer; and seven great-grandchildren, Dustin, Wyatt, Harrison, Shelby, Zachary, Xavier and Zuri.
Funeral services will be held at 11:30 a.m. Wednesday, March 25, in The Hamil Family Funeral Home Chapel, 6449 Buffalo Gap Road in Abilene, officiated by Dr. Ed Enzor and Charles Sheppard. Burial will follow at 1:00 p.m. Wednesday in Texas State Veterans Cemetery at Abilene.
Serving as pallbearers will be four great-grandsons, Dustin Wink, Wyatt Wink, Harrison Christopher and Zachary Hair, Dr. Gordon Dowell and Garner Roberts.
Memorial contributions may be made to Mision Para Cristo, 525 N. Park Blvd. Grapevine, TX 76051.
Online condolences may be submitted at www.HamilFamilyFuneralHome.com.