Billie Harris
Updated: November 15, 2019
April 26, 1932 – November 3, 2019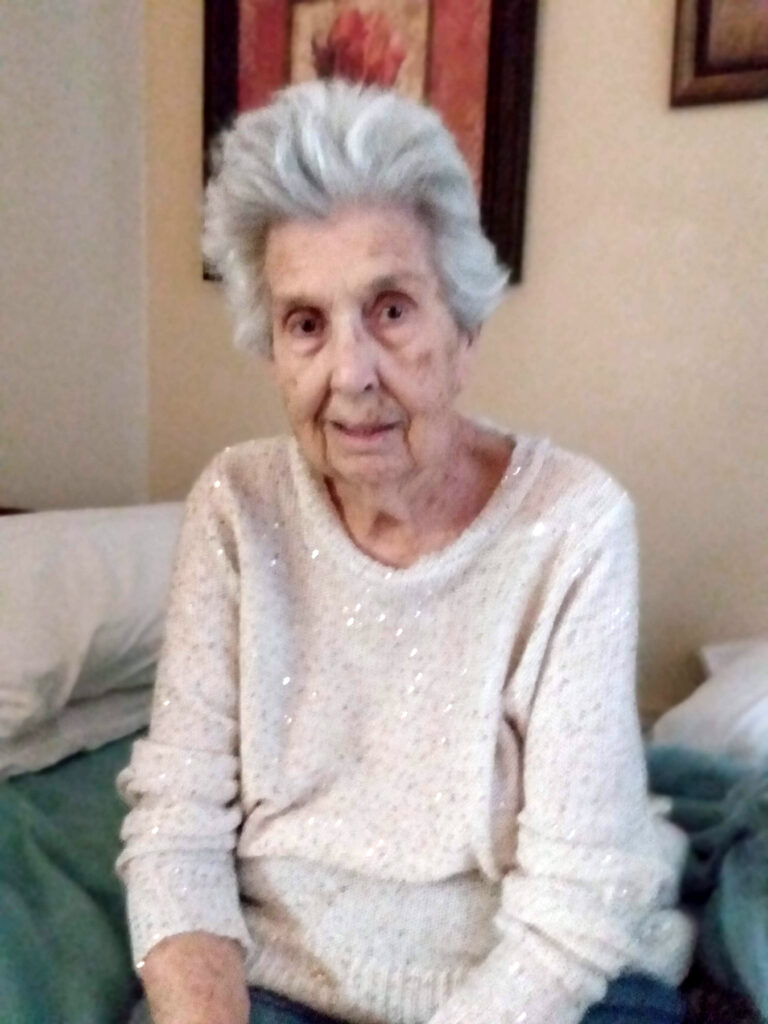 There's a moment in the early mornings before the sun has broken free of the horizon when ribbons of pastel pink clouds kiss the rooftops and the tallest trees, before the morning mist has dissipated. It was a time that so many of us who prefer to sleep in, miss seeing, but Billie Harris was always awake to see it. She was always an early riser–the first one up every morning having her coffee, and perhaps some toast and jelly. But coffee, always coffee
Born on April 26, 1932, in Wicks, Arkansas she was the youngest of seven brothers and sisters. Billie learned some hard life lessons at an early age, including the importance of education and the necessity of steering her own ship through life.
Billie moved to La Feria, Texas in the Rio Grande Valley and married Duane M. Harris, who owned a Taxidermy shop, a gun shop, and sold sporting goods. She eventually gave birth to one child. Employed as a certified beautician for several years, Billie eventually took a position at Santa Maria School District as the librarian, and also supervised the girls PE classes. She provided for her family through enormous sacrifices to keep food on the table and to give her child the opportunity to attend college.
But Billie Harris was more famously known for two things: her skill as a hostess, and her green thumb. She loved to host gatherings in her home, and set about a complete feast for her guests. No one ever went home hungry. Many people can make good meals with expensive ingredients, but Billie knew how to combine whatever she had on hand to make astounding tasty feasts. Her culinary specialties included spaghetti, tacos, Spanish rice, and chicken fried steaks, to name a few of my personal favorites. Her tunnel of fudge cake and Italian Crème Cake won several cooking competitions.
Billie personally managed her three-acre yard on North Rabb Road filled with tropical plants flowers and trees, along with citrus trees, a cactus garden, a rose garden, and a two large fish ponds. She had a night blooming cereus, that had entwined its long strands up into the branches of a mesquite tree on our patio. One night the plant erupted into hundreds of large plate sized blooms and filled the area with a rich sweet aroma. Amazing! Billie hosted palm society meetings, and many other gatherings for gardeners. People frequently toured her tropical yard. Billie Harris was a president in the Garden Club for many years and often won awards at flower shows where her lovely flower arrangements drew attention. She kept a large vegetable garden with her husband, as well, and grew tomatoes, sweet corn, bell peppers, okra, cucumbers and beets and potatoes.
As a product of the Great Depression, Billie was a frugal bargain hunter and die-hard shopper, she would never pay full price for anything or walk away from a bargain. This was in an era when those living along the Mexican border could still negotiate and bargain for a better deal.
Billie was an avid reader and solver of crossword puzzles. On a daily basis, she would sit in her favorite chair at the circular dinner table—the chair located next to the land line, which was the main phone in her home, and read the entire paper, and then get to work on the latest crossword or word search.
Billie appreciated everything anyone would do for her. She paid hired handymen o manage those few tasks she could not perform on the spot, or would invited them to dine with her at the dinner table when their labors overlapped meal times, and made certain they were well fed. Billie was resilient and fiercely independent. She had a riding lawn mower and cared for her yard independently well into her 70s. When time caught up with her at long last, Billie left La Feria in 2006 to reside with her son in Tulsa, Oklahoma, where she transformed a barren yard into a yard again filled with gardens, but with plants endemic to Oklahoma. She filled the yard with dogwoods, redbuds, Japanese maples, day lillies, roses and iris. With a heart of gold, all her neighbors loved her.
She taught us the value of honest work and the importance of saving money.
At the age of 87, on November 3, 2019, Billie Harris passed away of old age, her tires were well-worn, and she was ready to see her maker. At the time of her passing she resided at The Village Heath Care Center in Broken Arrow, Oklahoma. She lived a long, simple, quiet and comfortable life, though not an easy one, taking her last breath at 8:44 am.
Billie had a tremendous impact on so many people, and outlived most of her friends and associates. Her husband, Duane Maxwell Harris, died of heart complications in 1996, and Billie never fully recovered from that loss. And her neighbors will never be the same without her. She truly was a beautiful person and loving mother. Even when using a walker, or confined to her wheelchair, she made efforts to socialize with others. For her friends that remain in the area, may this obituary ignite fond memories of Billie, who is smiling down upon us, hoping that we respect each other, take a moment to say hello, and mind our manners. She is survived by her son, Monty Duane Harris, who now resides in Tulsa, Oklahoma.
I am proud to have Billie Harris as my mother who made me a better and stronger human being. I will never forget her loving headstrong manner. She truly was a woman ahead of her time.