The Big Squeeze, Texas Folklife's Statewide Youth Accordion Contest, Announces 2020 Lineup of Competitions and Concerts
Updated: February 7, 2020
Young Accordion Players Are Invited to Learn, Compete and Engage in Live Music Events Across the State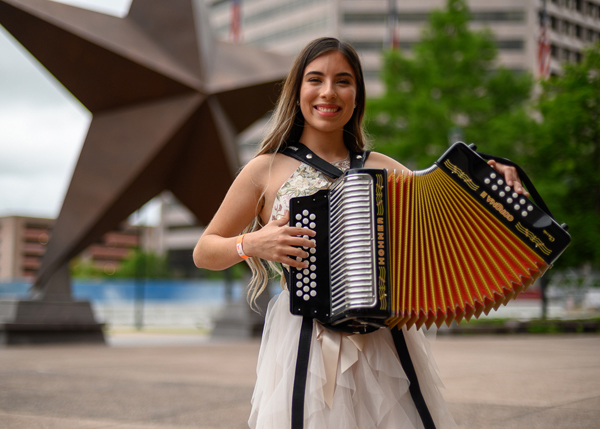 AUSTIN – The 14th annual Big Squeeze Accordion Contest, presented annually by Texas Folklife, announces its dynamic 2020 event lineup featuring youth competitions, live concerts and music workshops in traditional Texas accordion music genres including conjunto, polka, Cajun, zydeco and more. From February to April, the Texas Folklife team will produce local events in communities across the state — each uniquely highlighting talented young accordion players and celebrating Texas' diverse musical heritage. The competitions and workshops are open to the public and seeking participants. 
Big Squeeze season begins Feb. 15 in Pasadena, Texas and the programming spans across communities from the Rio Grande Valley to Dallas throughout the winter and spring. Contest finalists will compete in the ever-popular Big Squeeze Finals and Concert at the Bullock Texas State History Museum in Austin on Sunday, April 19, where grand prize winners will be selected. Each of the grand prize winners will receive a prize package valued at over $2,500 including a Hohner accordion, cash prize, performance opportunities with Texas Folklife, publicity, professional development and other professional opportunities. Additionally, the winners will perform onstage with legendary Texas musicians at Texas Folklife's Accordion Kings & Queens Concert, held at Houston's Miller Outdoor Theatre on June 6.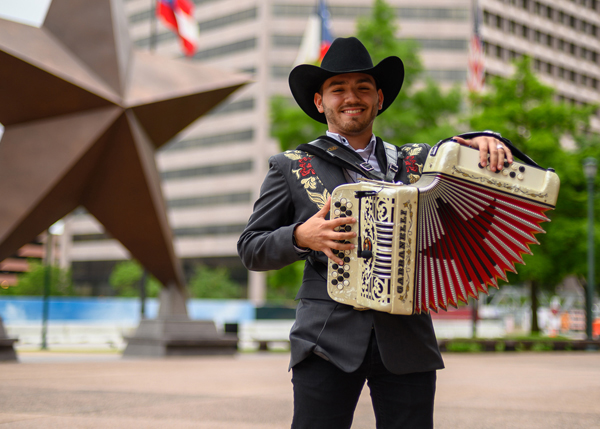 "The Big Squeeze illustrates Texas Folklife's commitment to celebrating both the diversity and commonality of Texas traditions. We are proud to continue our support of youth participation in Texas vernacular accordion music with the help of our many partners across the state," says Texas Folklife Executive Director Charlie Lockwood.
Sign-up, event details and contest rules are now available at texasfolklife.org/bigsqueeze2020.
2020 Big Squeeze Schedule
Saturday, Feb. 15 / Pasadena / Macro Plaza Mall, in partnership with The PEACE (Pasadena Education, Arts, & Cultural Engagement) Center
Sunday, Feb. 16 / Houston / Jax Restaurant
Saturday, March 7 / Palmview / Palmview High School
Saturday, March 7 / Roma / Roma Municipal Park Pavilion
Sunday, Mar 22 / San Antonio / Guadalupe Theatre, in partnership with Conjunto Heritage Taller
Saturday, April 4 / Edinburg / Conjunto Semi-Finals / Museum of South Texas History
Sunday, April 19 / Big Squeeze Finals and Concert / Bullock Texas State History Museum
Additional Dates TBA in North Texas and Southeast Texas
Interested players are encouraged to submit an application ahead of the showcase date to reserve a slot or arrive an hour before the showcase begins. Those who live more than 20 miles from a showcase may also mail or email their entries to arrive at Texas Folklife no later than March 22nd at 12midnight. The complete contest rules and entry forms are available online at texasfolklife.org/bigsqueeze2020 or by calling 512-441-9255.
The Big Squeeze is presented by Texas Folklife as part of its mission to preserve and present Texas' diverse cultural heritage. Since 2007, Texas Folklife has promoted Texas accordion music genres through the Big Squeeze program. More than 300 young, talented players from dozens of Texas communities have participated in the program, which supports these vital community-based accordion music traditions.
The 2020 Big Squeeze Program Director is longtime Texas Folklife producer and partner Sarah Rucker. Rucker produced the inaugural event in 2007 through 2011 and directed it from 2012-2014 and in 2019.

SPONSORSHIP
The Big Squeeze offers a variety of opportunities for individuals and organizations to become sponsors of this distinguished program. For more information on becoming a Big Squeeze Sponsor, visit texasfolklife.org/bigsqueeze2020 or call 512-441-9255.
The 2020 Big Squeeze is supported by grants from the Texas Commission on the Arts, the City of Austin
Cultural Arts Division, H-E-B, Texas Music Office, and the City of Houston through the Miller Theatre Advisory Board. Additional support is provided by regional partners.
SOCIAL MEDIA AND CONTENT
Texas Folklife Facebook
Texas Folklife Instagram
Suggested hashtags: #bigsqueeze2020 #txfolklife #accordionist #texasmusic #bigsqueeze #accordion
ABOUT TEXAS FOLKLIFE
Texas Folklife (TXF) is a statewide non-profit organization dedicated to presenting and preserving the diverse cultures and living heritage of the Lone Star State. TXF is designated by the National Endowment for the Arts as the official folk and traditional arts organization for the state. Since 1984, TXF has honored traditions passed down within communities, explored the importance of traditional arts in contemporary society and celebrated the state's vibrant heritage by providing arts experiences enjoyable and accessible for all generations. For more information, visit www.texasfolklife.org.
MEDIA CONTACT
Krissi Reeves / High Kick PR / [email protected] / 512-659-1385
PROGRAMMING CONTACT
Sarah Rucker / [email protected] / 512-773-1161