Obituary: Ada Betty Finley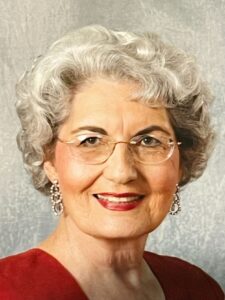 Ada Betty (Dunn) Finley, age 88, of Kerrville, Texas, completed her earthly journey on June 30, 2021 in Harlingen, Texas. Ada Betty was born on November 28, 1932 in San Juan, Texas. She was the first-born child of Joseph Curtis and Edith (Cochran) Dunn. The year following her birth, they moved to La Feria, Texas, where Mr. Dunn had purchased a produce canning plant. This was the beginning of his Quality Products canning business. As the business grew, so did the Dunn family, with sister Carolee and brother James being born in La Feria.

In May of 1949, at age 16, Ada Betty graduated from La Feria High School as a member of the National Honor Society and received the Rotary International's Achievement Award. Her higher education began at the University of Corpus Christi (now Texas A&M University-Corpus Christi) followed by Hardin-Simmons University in Abilene, Texas. She completed a summer semester full of fun and adventure at the University of Mexico in Mexico City between her junior and senior years. She graduated from Hardin-Simmons University in 1953 with a Bachelor of Business Administration degree. While at H-SU, she was a member of the elite drill and marching team known as the Hardin-Simmons Cowgirls. Ada Betty remained active as an alumna and she and Bryan attended many memorable H-SU functions, with Bryan even serving on the H-SU Board of Trustees for several years.

The day after college graduation, Ada Betty took the exam to obtain her Recording Agent's Insurance License. She passed the exam and became the youngest licensed recording agent in the state of Texas, at the age of 20. Her father, J.C. Dunn, founded the American International Life Insurance Company in Harlingen in 1952 and Ada Betty served as Vice President upon obtaining her license.

In July 1953, Ada Betty met the handsome and personable Bryan Finley from San Benito, Texas at a stockholder dinner celebrating the first anniversary of the American International Life Insurance Company. After an evening of Bryan vying for her attention, an electrifying first dinner date soon followed and the pleasure in each other's company never faded. They married on Valentine's Day 1954 and their newly-wedded bliss thrived for over 65 years. The following year, they welcomed son, Kenneth Bryan, followed by daughters Karen Jeanine, Lisa Kay and son Curtis Morgan. Her carefully planned career quickly became refocused from insurance executive to full-time homemaker and mother, with four children under the age of five! Her leadership skills found a place as room mother, Cub Scout leader, Brownie leader, Sunday School teacher, birthday party hostess and pet caregiver to the menagerie of critters Bryan and the children had over the years.

Bryan and Ada Betty also shared a passion for travel and made numerous trips abroad throughout the course of their marriage. One notable experience they had while globetrotting was an impromptu invitation to Queen Elizabeth's Birthday Celebration at Buckingham Palace in the summer of 1975. As the story goes, Ada Betty and Bryan had to make a mad dash to Harrod's to buy "dress code appropriate attire" and a "ladies' hat" in order to attend the event. On another trip, as dedicated Christians, the two of them enjoyed visiting the Holy Land. Apparently impressed with Ada Betty's negotiating prowess, a local shop keeper offered Bryan "seven camels in exchange for his wife."

J.C. Dunn, Ada Betty's father, built a family cabin at Alto Frio Baptist Encampment in Leakey, Texas, when she was a girl and the young Finley family spent most summers there. Those were idyllic days of swimming in the refreshing Frio River, hiking, picking peaches & enjoying her scrumptious peach cobbler. The Hill Country was the family's respite from the hot Rio Grande Valley summers, and in 1971 Bryan and Ada Betty moved the family to Kerrville, Texas.

In addition to her keen business sense, Ada Betty was also very creative and artistic. As a young mother, she made beautiful wedding cakes, which was challenging with four young children and no air conditioning in the South Texas heat! She was a talented seamstress and loved fashion, sewing exquisite dresses and even pageant gowns for her two daughters. She taught both daughters how to sew and Lisa now teaches sewing classes for adults and children. Bryan's Aunt Vola introduced Ada Betty to the art of china painting and she found artistic expression in painting lovely porcelain pieces. She was a member of the Hill Country Porcelain Art Guild for many years. Ada Betty also loved to entertain and was known for being a fun hostess and a fabulous cook! Her peach cobbler and chicken curry were always in demand!

She was a devout Christian and lifelong Baptist Church member. In addition to active church participation, Ada Betty was active in the Gideon's International Auxiliary, PEO International Women's Organization, American Cancer Society and other philanthropic endeavors. She will be remembered as a loving wife, mother and grandmother, gracious hostess and kind friend. She walked through life with beauty and elegance.

Ada Betty was preceded in death by her beloved husband Bryan in January 2020, her parents J.C. & Edith Dunn, twin granddaughters Emily & Elizabeth Chesky, sister Carolee McBeth, brother James Dunn and nephew Mark Dunn.
She is lovingly remembered by son Ken (Bonnie) of Pipe Creek, TX, daughter Karen (Michael Parkman) of Houston, TX, daughter Lisa (Jim Morrow) of McAllen, TX, son Curtis of Kerrville, TX; six grandchildren: Morgan, Jeffrey, Caitlin, Taylor, Lauren (Kyle Gottardy), and Megan; one great-granddaughter Aubrey, nieces Debbie (Jeremy Reiley, son Hunter) and Vivian, nephews Fletcher, Lowell, Clinton, Travis and other extended family members.

The family received friends and relatives on Thursday, July 8, 2021 at Buck Ashcraft San Benito Funeral Home.
A graveside service was held Friday, July 9, 2021 in the Mausoleum Chapel at Mont Meta Memorial Park in San Benito, Texas, where she was laid to rest beside her dear Bryan in the family plot.
Those who so desire may make memorial donations in memory of Ada Betty Finley to Gideons International, PO Box 97251, Washington, DC 20090-7251.

Funeral arrangements have been entrusted to Buck Ashcraft San Benito Funeral Home, 1400 W. Business 77, San Benito, Texas 78586. www.sanbenitofuneralhome.com 956.361.9192