Launching to New Heights
La Feria High School Student attended SpaceX, Igniting Possibly New Aspirations in Our Up & Coming Leaders of Tomorrow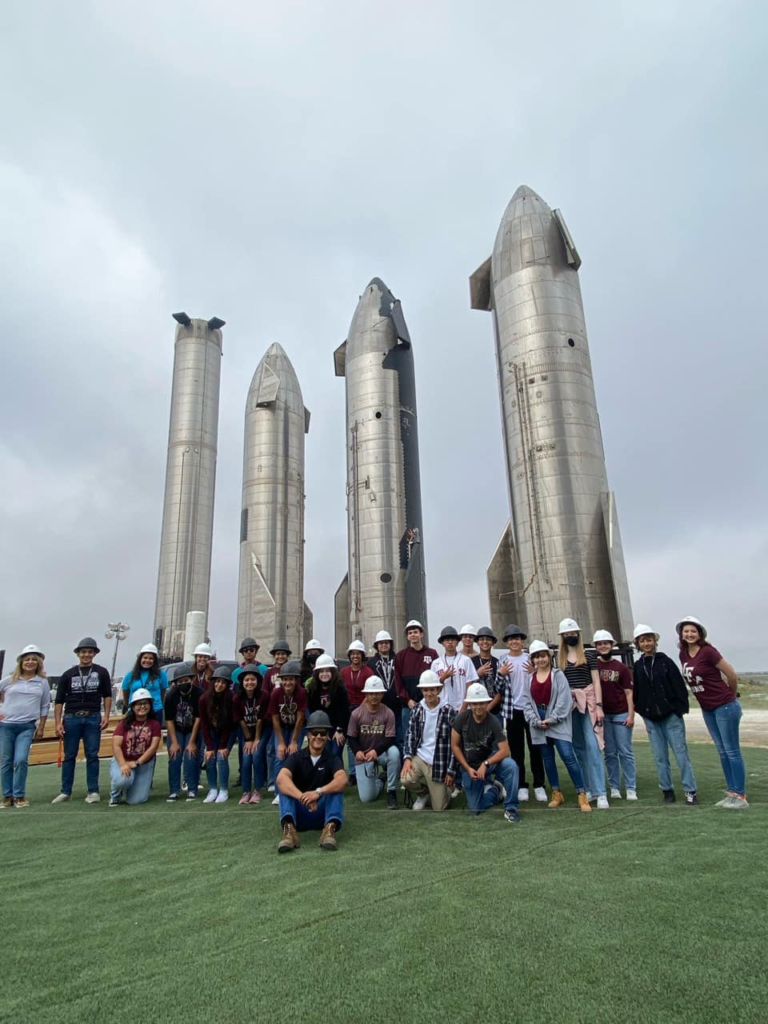 Emilio Flores
La Feria News
On April 14th, students from computer science engineering and Architecture students had the opportunity to attend a field trip to SpaceX, and receive a personal tour.

Abigail Rodriguez, the computer science teacher, tells La Feria News that she reached out to the engineering and architecture teacher, George Cordero to include students from his classes to be part of this SpaceX tour.

In total Mrs. Rodriguez says they had 27 students attend the field trip, with students from Stem aswell as the Gear-up program.

Abigail Rodriguez, says that something SpaceX had mentioned to the students was the need for more coders. Coding is an enormous part of getting a spacecraft off the ground and they need more manpower in that sense.

Mrs. Rodriguez expresses what a great privilege it was to have students from the school experience and see up close these massive spacecraft. Just last week, La Feria News' Twitter retweeted about SpaceX's Raptor 2 engine quoting some of the newest updates saying, "SpaceX says that 'Raptor 2 generates more than 230 tons of thrust at sea level,' And Musk hopes to increase that by the end of the year to 250 tons of thrust!"

SpaceX told students about three major projects that the team is working towards. The first project is one that we've started to see in the works already in small areas, and that is Starlink.

Starlink, for those that don't know, is a "high-speed broadband internet to locations where access has been unreliable or completely unavailable" It's high-speed satellite internet. Cameron County Released back at the beginning of March that Starlink internet services will be available in select areas. On March 4th, the integration of Starlink internet services, according to the release, will be available at Pedro "Pete" Benavides County Park, the Bob Clark Social Service Center, and the Public Works Warehouse in Cameron County. And access will only become more and more available to the rest of the Valley.

Another project they are working on going back to the moon! According to an article put out by Space.com published by By Mike Wall early this year, in January, Wall says "Elon Musk's company is providing the landing system for the first crewed touchdown of NASA's Artemis lunar exploration program, a milestone that the agency hopes to achieve in 2025."

The billionaire has big plans for his company, but just as those infamous long commercials say, wait, there's more. However absurd it may sound, Elon Musk also plans to colonize mars! Some reports say as early as 2029.

These are just some of the many things Mrs. Rodriguez says SpaceX explained to the students during the tour. She was also kind enough to send in some quotes from the students themselves last minute to hear what it was like to experience this awesome opportunity.
Daniel Aranda – What did you find the most interesting? "The rockets and the towers that help assemble them. The towers are quite tall, housing the rocket as it is put together with cranes." What would you tell other students who would be interested in visiting SpaceX? "Go on this field trip and look at what the company has to offer. You won't be disappointed, especially if you enjoy computer science. They even said it themselves at the facility: they don't have enough computer science people and need more."
Ashlyn Garza – Did this trip help increase your interest in computer science? – "It did. It helps put into perspective that computer science isn't just making a website or animations. People are able to build entire rockets with the help of computer science."
Andrew Diaz – What was your overall experience of the trip to SpaceX? "It was a very eye-opening experience, being able to witness the evolutions humanity strives to make every day really made me interested in what they do at SpaceX."