Strong Link in Supply Chain: Port of Brownsville Sees Record Cargo Volumes in FY2022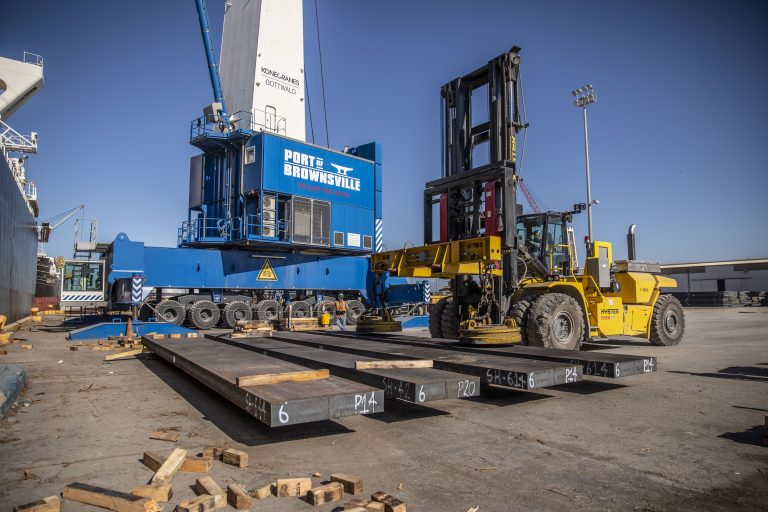 BROWNSVILLE, Texas – February 6, 2023 – Since its establishment in 1936, the Port of Brownsville has maintained its commitment to serve as the leading maritime port for the Rio Grande Valley and Northern Mexico.

Throughout 2022, more than 15.2 million tons of diverse cargo moved through the port supporting various industries with efficient and reliable logistical services according to unaudited cargo volume reports. This forecast represents a 10.2 percent increase from the 13.8 million tons of cargo recorded in 2021, a new record for the Port of Brownsville.

The skilled workforce at the port has streamlined operations to move essential commodities such as break bulk like steel, and aluminum; liquid bulk petroleum products; project cargo such as wind energy and space industry components; and dry bulk like grains, aggregates, pet coke and cement.

Break bulk commodities such as steel and wind energy components saw a 10 percent increase in 2022 with more than 4.7 million tons of cargo moving through the port, up from 2021's 4.3 million tons. Liquid cargo volumes remained steady while loads of dry commodities lightened.

Rail lines, trucks, and the port's mobile harbor cranes provide a seamless transportation system moving cargo from docks on the way to their destination.

In 2022, railcar movements continued an upward trend with an all-time record-breaking 72,616 movements, a 10.2 percent increase from the previous year. The port also saw approximately 438,000 truck movements and 1,757 vessel calls.

The strength of the port's global reach is evident in Foreign Trade Zone No. 62's (FTZ No. 62) ranking as second in the nation for the value of exports.

The U.S. Foreign-Trade Zones Board's 2021 report to Congress placed FTZ No. 62 second in the U.S. with more than $5.2 billion in exported goods in 2021, an increase from the $4.1 billion reported in 2020.
The port's FTZ has consistently ranked in the top three for exports out of 193 FTZs nationwide since 2012. Additionally, FTZ No. 62 ranks 20th in the nation for the value of imports totaling $4.5 billion.

Cargo tonnage and value of exports and imports are expected to increase as the port's Brazos Island Harbor Channel Improvement Project (BIH) progresses. In July 2022, the Brownsville Navigation District and the U.S. Army Corps of Engineers signed a project partnership agreement to begin work on deepening the 17-mile-long Brownsville ship channel from 42 feet to 52 feet.
About the Port of Brownsville
The Port of Brownsville is the only deep-water seaport directly on the U.S.-Mexico border, and the largest land-owning public port authority in the nation with 40,000 acres of land. It transships more steel into Mexico than any other U.S. port. As the major multimodal transportation hub serving the Rio Grande Valley and northern Mexico, the Port of Brownsville supports investment opportunities and jobs. Activity at the port is responsible for adding more than $2.6 billion to the regional economy, $3 billion to the Texas economy, and for the creation of more than 51,000 jobs statewide. For more information, visit www.portofbrownsville.com.